Last week, the government released a report which called for greater action to tackle the issue of sexist dress rules in the workplace which discriminate against women.
The report brought back into the focus the story of receptionist Nicola Thorp, who was sent home from work for not wearing high heels. Her then employment agency, Portico, had a rule stating she should wear shoes with heels that were between two and four inches in height.
New YouGov Omnibus research has explored public opinion on this issue. The research, carried out last week, asked the public about government directives and also what type of dress code the public feels is acceptable.
In the report, the government suggested that employers could be fined if they contravened rules against imposing a sexist dress code. Our data revealed that two thirds of Brits (66%) agree with this suggestion, against 10% that would be opposed.
When thinking of what they would ideally wear to work each day, the majority (57%) would like to fit into the 'smart casual' style, while one in five (21%) want to dress casually, and 18% saying formally.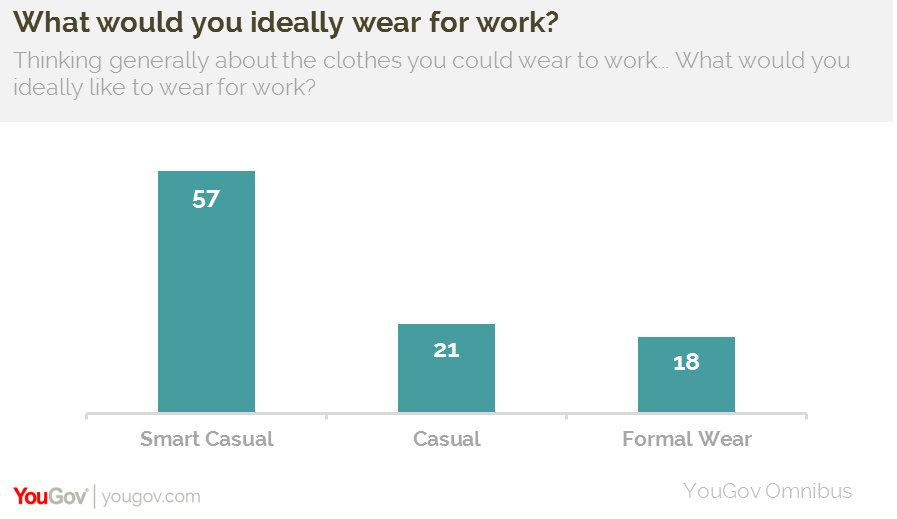 There is a notable difference between genders on this front. Women are much more likely than men to want to dress in a 'smart casual' style (66% vs. 47%), while men are more likely to favour a formal code (22% vs 14%).
Omnibus research also found that a plurality (47%) believe that a fixed dress code would not make them anymore productive at work, compared to the three in ten (30%) that believe a relaxed dress code would be beneficial. 13% said a stricter dress code would help. Perhaps unsurprisingly, it is the youngest age group (18-24s) that are most likely to say a relaxed dress code would boost productivity (36%). 
Image PA