Proposals to recommission the Britannia face strong headwinds as people tend to oppose bringing back the Royal Yacht - especially if a new one has to be bought
The idea to recommission the Royal Yacht Britannia has recently been floated by several politicians, including foreign secretary Boris Johnson. In her previous life before her current role as a museum ship, Britannia hosted business figures from across the globe for on-board trade talks. James Berry – another politician backing the Britannia's return –places the value to the UK of those trade deals secured at £3bn between 1991 and 1995. If Britannia was recommissioned, the argument goes, then it could be used to help secure the trade deals Britain needs post-Brexit.
The public is split on whether they think this is a good idea though. Four in ten people (42%) oppose the recommissioning of the Royal Yacht, compared to 31% who support it and a further 26% who don't know. Leave and right wing voters are more convinced of the case for the Yacht – more Leave voters support (45%) recommissioning the yacht than oppose it (34%), whilst a majority of Conservative and UKIP voters are in favour.
The case for the Royal Yacht is further complicated by the Yacht's age, lack of trained crew and current status as a popular tourist attraction in Edinburgh. Ultimately it might be more practical to buy a new yacht rather than recommission the old one.
When the prospect of buying a new Royal Yacht is raised, however, support falls across the board. The majority of the public oppose this option (51%), and a new yacht is opposed by more Leave and UKIP voters than support it. Conservative voters are pretty evenly split, with 41% in favour and 39% opposed.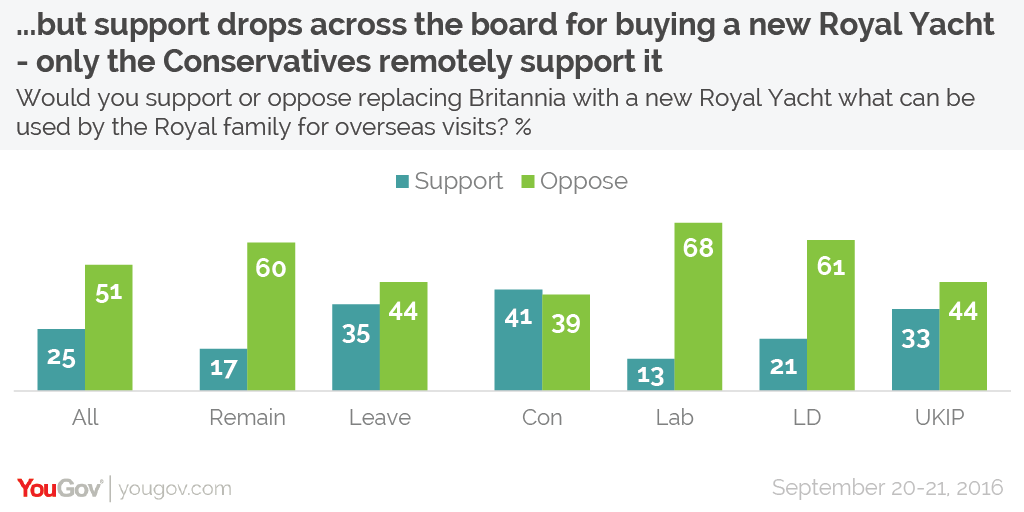 Ultimately, the general public just don't buy the argument that the cost of a new Royal Yacht can be justified by the Yacht's role in helping secure trade deals and promoting British interests. When this case was put to the public, just 26% said that spending on the Yacht could be justified given all the other pressures on public spending – 57% felt that it could not be justified. Again, Conservative voters are the only ones who come close to being in support of the spending, with a close split of 44% saying it would be justified compared to 42% saying it wouldn't.
Photo: PA