YouGov Profiles data reveals the brands set to benefit from BHS entering administration
The embattled retailer has been in trouble for some time, after a failure to modernise its offering meant it lost market share to its rivals. Today's announcement that a rescue deal has collapsed places 11,000 jobs in severe jeopardy. BHS will continue to trade for the time being while a buyer is sought. However, competitors will be keen to attract current BHS customers to their stores in case of its eventual demise. 
A new analysis of YouGov Profiles data reveals BHS customers are already disproportionately customers of Marks and Spencer, Debenhams and Primark.
Almost half (49%) of BHS current customers also shop at Marks and Spencer. Just over a quarter (27%) are also customers of department store Debenhams and 27% shop at Primark.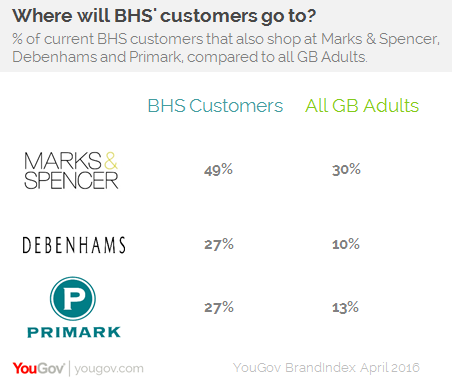 BHS has found itself in something of a retail no-man's land. It has not been able to appeal to an increasingly fashion conscious older consumer base, whilst also losing out on price to other retailers.
The public only slightly tends to say the retailer should be saved. 47% say someone should try to rescue and revive the ailing brand, but a sizeable minority (37%) say it should be left to disappear from the high street, much like Woolworths and Comet in recent years.
So while it is devastating news for staff, and indeed for loyal customers too, the saga underlines how ruthless the retail world can be, especially if a brand fails to modernise and innovate.
PA image