Wearables' market penetration is comparable to that of tablets at the same stage after launch, new analysis by YouGov reveals. 
The latest wave of the data company's wearables tracking study shows that 6% of the adult population currently own a wearable. This is comparable to the uptake of the tablet which, after five quarters of being studied by YouGov, had 5% penetration.
However, over the following five quarters tablets increased their penetration to 22% as more customers bought their first devices. However, stumbling blocks exist for wearables meaning it will be difficult for them to make similar inroads by the end of 2016.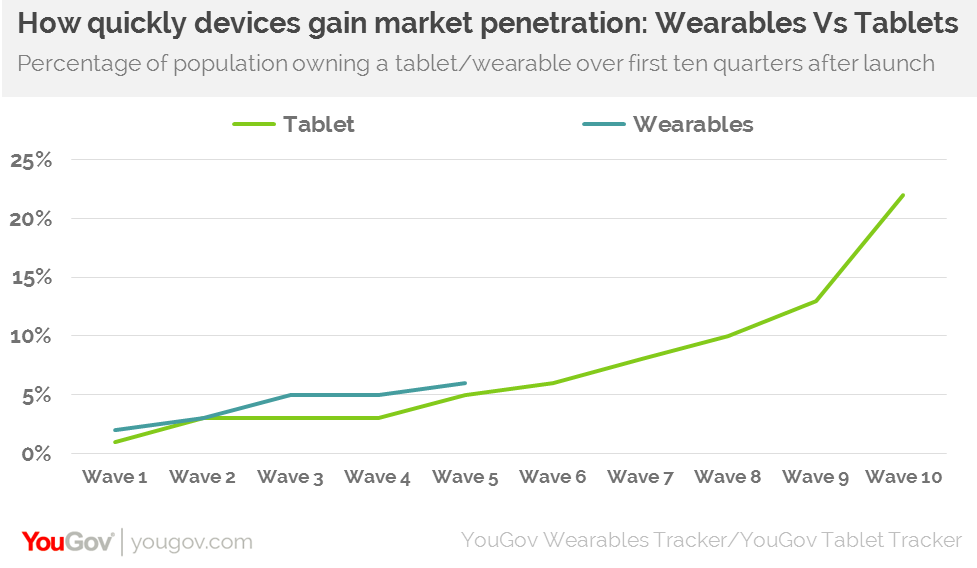 The main problem is that much of the increase in wearables sales will come from current owners. Among the three million-or-so consumers saying they plan on buying a wearables 20% already have one of the devices.
At the same stage of their lifecycle it is more common for wearables owners than tablet owners to have multiple devices. While a quarter (25%) of people with wearables have two or more of the devices, at the comparable point after launch only 16% of tablet owners had more than one.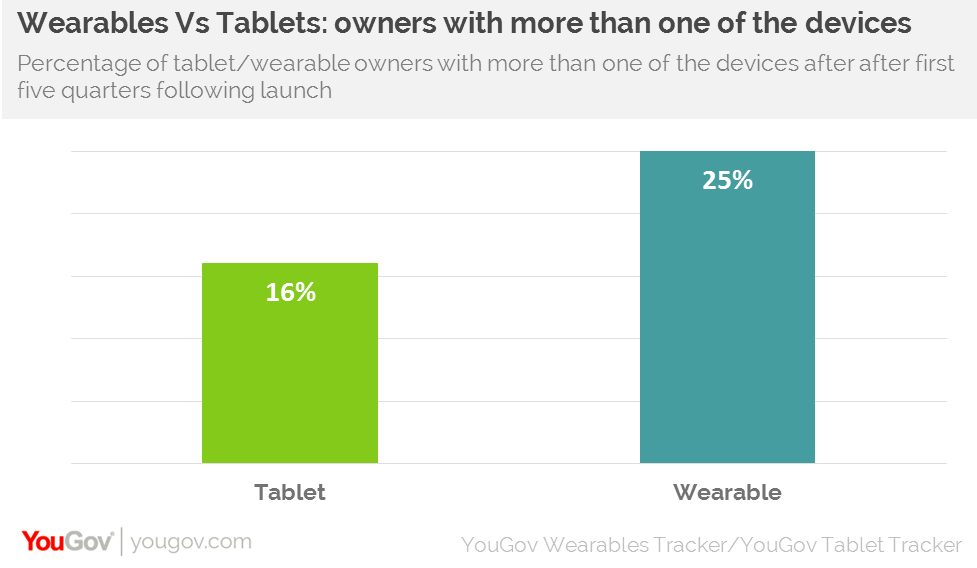 The study finds that around one in four (39%) wearables owners expect to get a new one in the run up to the festive period or during the January sales. Among those that don't currently own one of the devices, 5% are in the market to get one over the next six months.
YouGov's data suggests that there is a clear division among wearable owners between those that own them and want more and those which own them and no longer use the devices. Just over half (55%) of current wearable owners say that they will get another of the devices in the future. However, a fifth (20%) of those that already own a wearable do not use them anymore.
Russell Feldman, Director of Digital, Media and Telecoms at YouGov says: "On the face of it wearables are doing pretty well – or at least as well as the tablet was at the same stage of its lifecycle. While looking back it was almost inevitable that tablets would become ubiquitous the path for wearables is a lot less clear.
"The good news is that wearables are considerably cheaper than the first tablets meaning that they are better suited to speculative purchases or being given as gifts. This is shown by the fact that so many wearable owners buy further devices as newer models with better features emerge safe in the knowledge it will not break the bank.
"Most of the wearables currently being sold are fitness devices not smartwatches. This immediately means that the device is somewhat niche only aimed at fitness fanatics or would-be exercisers. Tablets, on the other hand, were much more of a universal product aimed at everyone. It is increasingly apparent that the wearables industry needs to create user cases to help increase penetration. This needs to come from manufacturers, retailers, operators, fitness centres as well as other interested parties." 
More information about YouGov's Digital, Media and Technology research
Image from PA