The latest YouGov Nowcast has Labour at 277 seats and the Conservatives at 264
Today we publish a new update to the YouGov Nowcast, making use of the biggest single dataset available on the outcome of the election on May 7th. In total, it involves 163,564 different individuals, 19,117 of whom have been newly interviewed since the last published Nowcast before the weekend on April 4th, using a special two stage voting intention question that teases out local tactical voting.
It involves a sophisticated statistical model that combines the voters we have in each constituency with similar voters around the region in terms of demographics like age, gender, employment, ethnicity and of course past vote.
The latest results paint a clear and consistent picture of the current state of the election campaign. As of today, the SNP are poised to all but wipe out Labour in Scotland, picking up as many as 55 seats; the Liberal Democrats stand to retain around half their seats at 28, and the Conservatives remain just behind Labour, ahead in 264 seats compared to Labour's 277.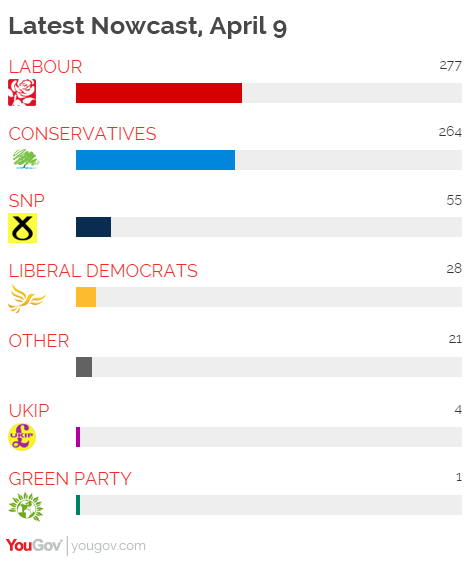 The only significant trend the data has picked up since last week is a very slight softening of SNP support in constituencies in Scotland. A striking 3/5 of the seats in the SNP column are classified as 'too close to call'. Since April 4th we have moved 3 constituencies from 'leaning SNP' to 'too close to call', 4 constituencies from 'likely SNP' to 'leaning SNP' and a further 7 from 'SNP' to 'likely SNP'. However, the trend has so far only reduced their total by one seat - Dunfermline and West Fife - in which Labour is now seen as narrowly ahead.
Pundits, pollsters and election experts will speculate on the things that may change before election day: will the SNP vote retreat dramatically when it comes down to it? will there be a late swing to the Tories? Will incumbency play a significant role and benefit the Tories in England and Labour in Scotland? On all of these questions we can look to past elections as a guide, but this is a highly unusual election and past behaviours may not be as reliable this time. The YouGov Nowcast, unlike other election forecasting models, contains none of this educated guesswork: it is a straight application of our latest data on to the election map.
YouGov's Peter Kellner's next prediction, taking account of these factors and many more, will be published this coming Sunday.
The Nowcast will be regularly updated between now and election day. Click here for the full election centre.
Note: the latest edition of the Nowcast does not include detailed party ranges for three seats in Wales where the model has not been treating Plaid Cymru's vote share correctly. We hope to have these back up shortly.