Men are prepared to spend an average of nearly £400 to attend a stag do, more than twice the £175 women will spend on a hen party
A decent stag or hen party can be a pricey affair. With the need for fun activities, copious amounts of alcohol and possibly even foreign travel, an attendee can be quickly left out of pocket. In 2014 a company called StagWeb stepped things up a notch, launching a 'Million Pound Stag Party' package aimed at footballers, bankers and lottery winners.
Whilst most Brits are unable and unwilling to stump up the £100,000 cost of attending one of these parties, they are still willing to spend a fair amount. New research from YouGov finds that Brits are pretty generous when it comes to splashing the cash on hen and stag dos – but men are willing to spend twice as much.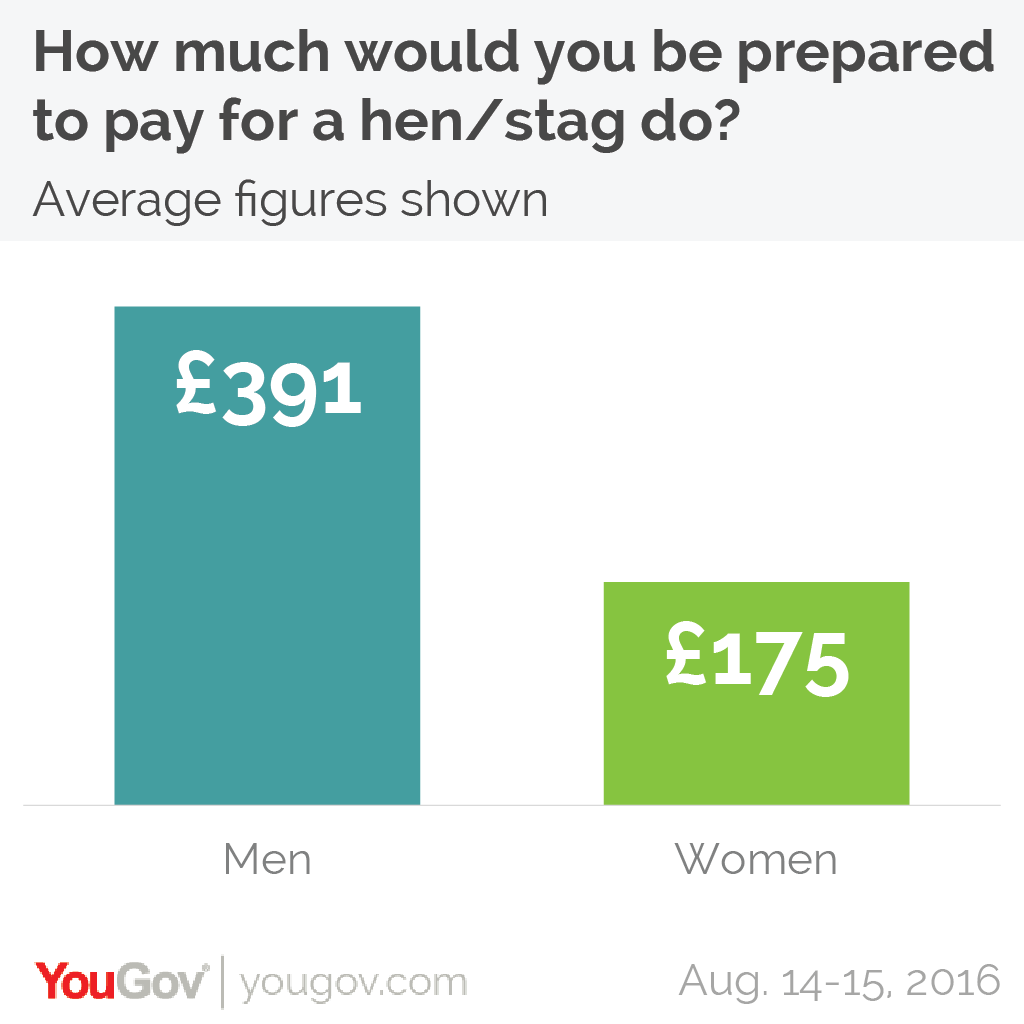 Taking into account all potential costs, including transport, accommodation and activities, men are prepared to spend an average of £391 to attend a stag do, more than double the £175 that women would be prepared to pay.
Men's stag do-related profligacy might explain why they are more willing to subsidise the stag than women are the hen. Whilst 35% of men think that a stag's share should be covered entirely by the rest of the group, this falls to 25% for women and hens. Likewise, whilst 20% of women think the hen should pay their full share, dropping to 12% for men and the stag.
For happy hens, a spa session is bar far the best option – 56% of women listed spa days/weekends as one of the best hen party activities compared, to just 3% who consider it one of the worst. Other top choices include hitting a bar or a club, and cocktail making sessions or going to the theatre. Strip clubs, life art drawing sessions and golfing are the biggest no-go areas.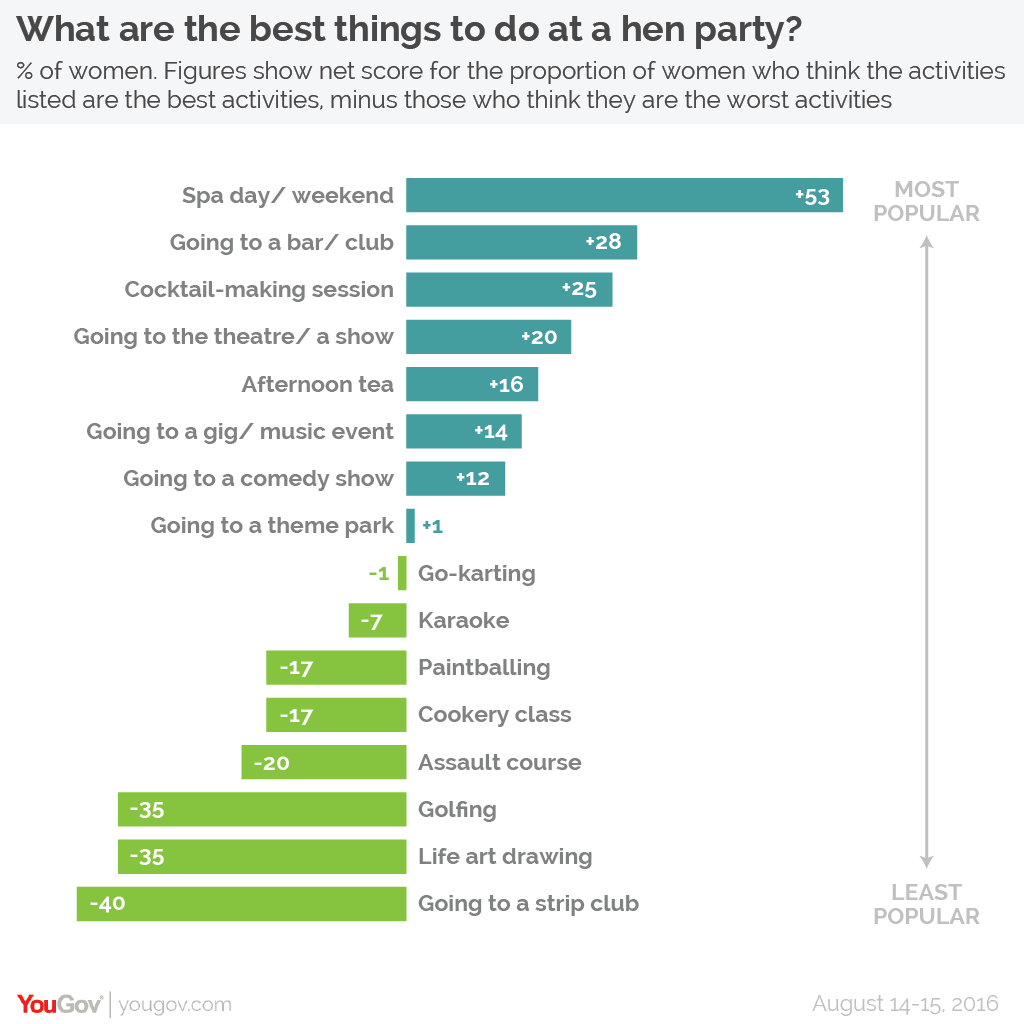 To satisfy a stag, on the other hand, it is better to get drinking. Going to a bar or club is the most popular stag activity, with 45% of men saying it is one of the best activities compared to just 4% who say it is one of the worst. Paintballing and go-karting are the next most popular stag activities.
Strip clubs – that stereotypical staple of the stag do – are divisive. Nearly one in five men (19%) consider them to be one of the best stag do activities, but an almost identical number (18%) consider them to be one of the worst.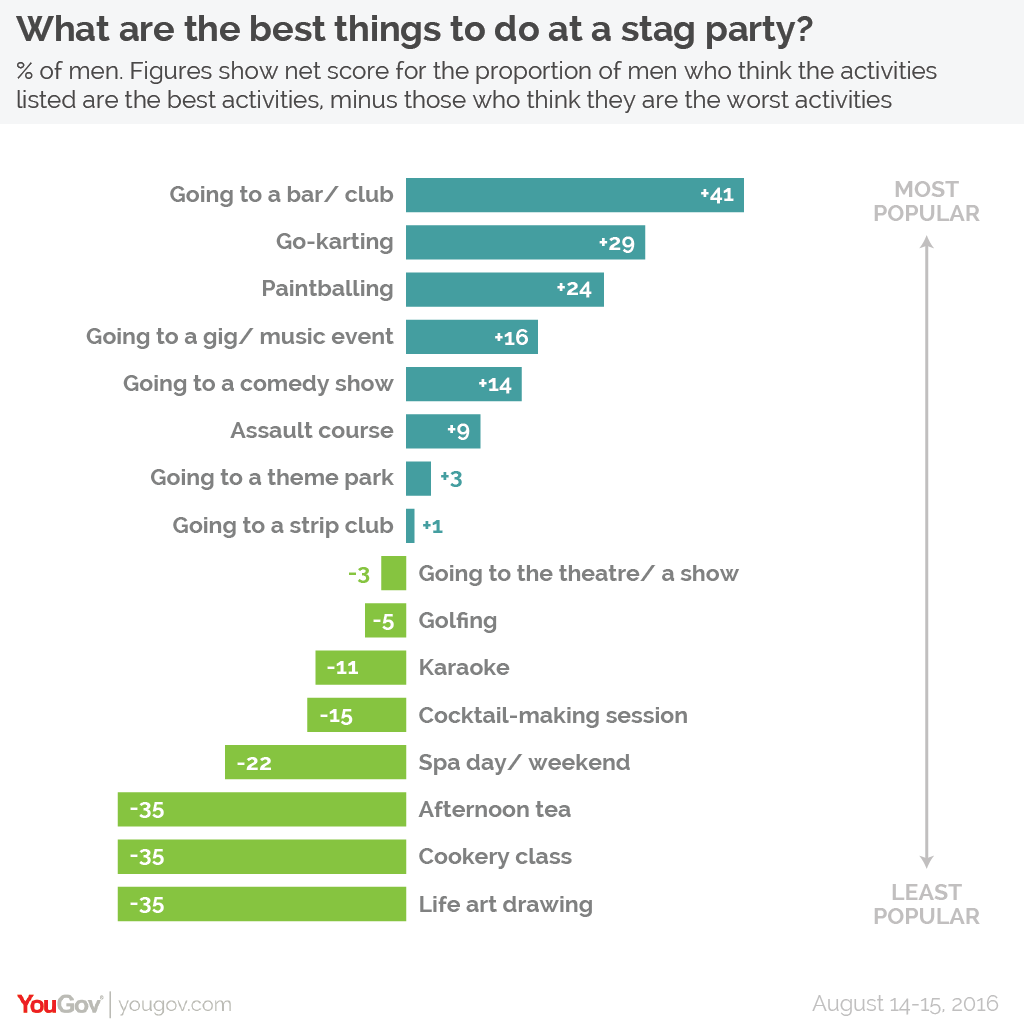 As with hen dos, life art drawing and cookery sessions sit at the bottom of the list for stag do activities, although by contrast taking in afternoon tea is regarded with similar disdain by men.
Whilst the public at large is split on whether stag and hen dos are outdated (41% say they are, 39% say they are not), those who have been on them tend to be overwhelmingly positive about them. Asked the best words to describe hen and stag dos they had been on, the top three words used by both genders were: "fun", "entertaining" and "memorable", although a sizeable minority do acknowledge that they have an element of silliness and tackiness.
Most people are open with their partners about what goes on at their stag/hen do – just 10% say their partner was secretive about what they go up to. People aren't worried their partners got up to anything they should have in any case – only 5% suspect a partner of cheating on them on the stag/hen do.
Should fiancés be suspicious of their betrothed's intent, having either the bride or groom's parents on hand at the stag/hen do is an obvious way to keep them on the straight and narrow. Nearly six in ten women (57%) consider it suitable for either their own or their partner's mum/dad to attend the hen/stag. Men are slightly less happy with this arrangement, although at 42-44%, they are still more happy for parents to attend than not.
Photo: iStockphoto