Majority of public are more decided on future rapidity of swimming children than Gareth Keenan
This week has seen success for the British swimming team at the Rio Olympics along with the great Michael Phelps winning his 21st gold medal in the Olympic pool.
Such a high-water mark for aquatics, coupled with the upcoming release of David Brent: Life on the Road, provided YouGov with the perfect opportunity to ask the British public an important question that has been raised by many over the last 15 years.
While the new film is released on Friday next week, Saturday of this current week sees the 15th anniversary of Wernham Hogg Assistant (to the) Regional Manager, Gareth Keenan asking his colleague Tim Canterbury:
"Will a boy ever be born who can swim faster than a shark?"
Obviously Gareth is neither a professional writer of questions, nor has he taken my summer school course, so he can be forgiven for the gendered nature of his question – and also the lack of clarity on the specific breed of shark.
When a revised, gender neutral version was posed to a representative sample of British adults the results were clear. Only one in twenty (5%) believed that a boy / girl will be born who can swim faster than a shark. In contrast, six out of ten (60%) said it would never happen while over a third (35%) did not know.
At this point many may wonder, admittedly with some justification, why such questions are asked. At the total level the results are far from surprising and there is little in the way of statistically significant differences between the results of, for example, supporters of different political parties, but when the results are broken down by different demographic groups some interesting pictures do emerge.
Those aged 18 to 24, perhaps in a demonstration of youthful enthusiasm, are far more likely to think a human will eventually win out.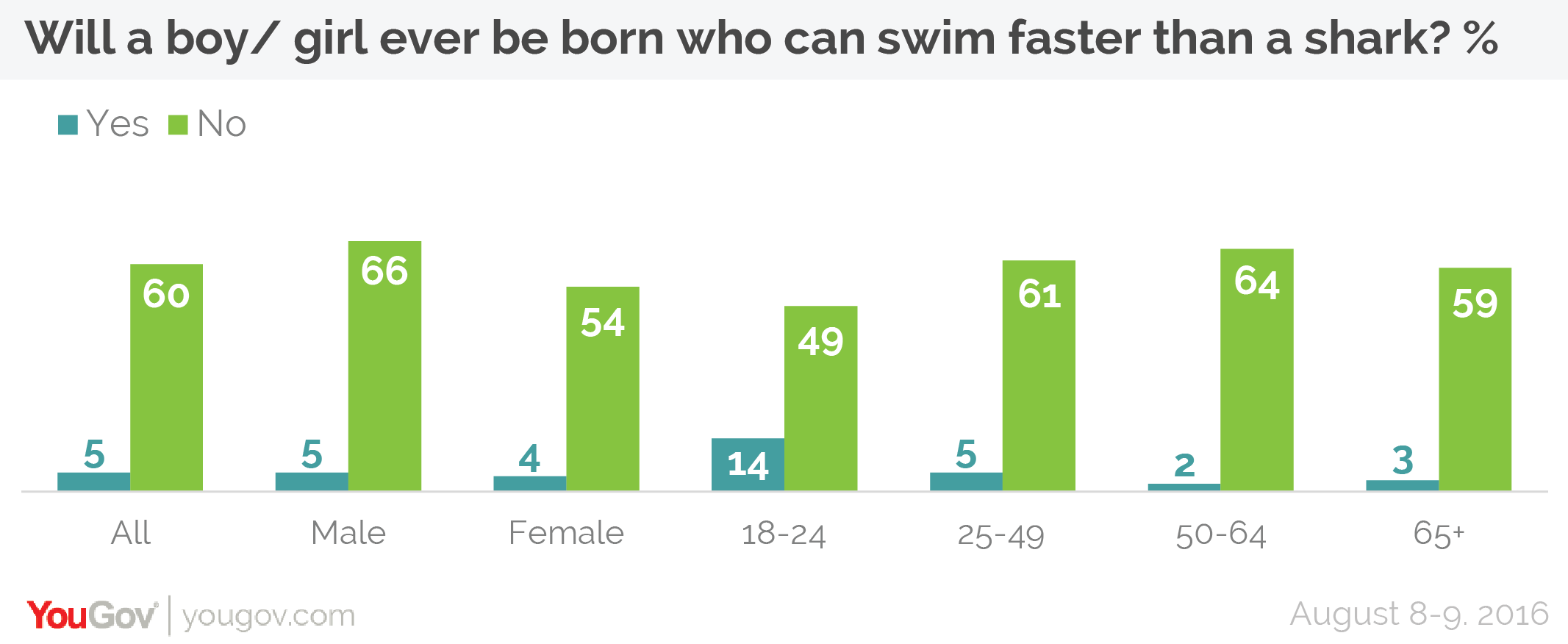 Furthermore, just over a quarter of men (28%) say they are not sure, 14% lower than the figure for women. While this may be due to some men possibly having a more detailed knowledge of the respective swimming speeds of sharks and humans, it may also be evidence of women being less likely to come down on one side or the other in a deeply hypothetical (some may even suggest deeply silly) question.
It is impossible to know for sure why these demographic differences exist from the data we have available. Further research may be necessary, but then again, perhaps that is not such a good idea.
Photo: istockphoto