Central to the ability of organisations to improve their reputation is the concept of fairness, according to research by YouGov.
Back at the start of 2017 Prime Minister Theresa May, in her landmark Brexit speech at Lancaster House, mentioned the word 'fair' or 'fairer' 11 times in the context of working towards creating a "fairer Britain". Indeed fairness has been a perennial theme in politics for decades and it is an idea that continues to resonate with the public now, particularly around repairing trust. 
Poll results by YouGov from June this year found that 56%1 of the public believe society is becoming less fair versus just 7% who believe it is becoming fairer and 27% saying no change. Fairness matters hugely; it is one of five themes in moral foundations theory which tries to explain the source and differences in human moral reasoning. Fairness is crucial to the process of reciprocity, either building or removing trust between two individuals.
So fairness is a concept that has important ramifications for businesses and organisations of all types. YouGov polls show public trust in the UK's large businesses and business leaders is generally low (23% trust 'people who run large companies', the same as trust leading Labour politicians2) but our latest research demonstrates that when the public is asked3 what can be done to repair trust, the top answer is 'fair treatment of others'. Indeed fair treatment is almost twice as popular a response as the second placed answer of improving operational standards.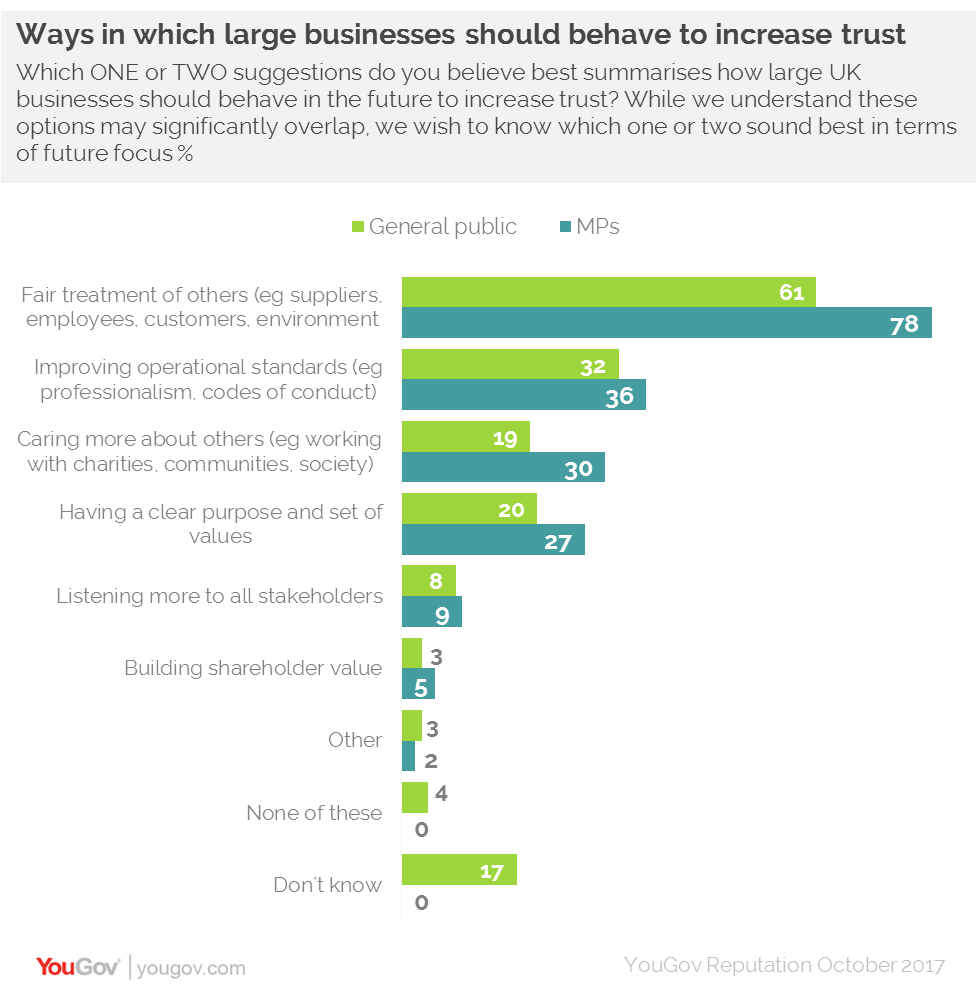 It isn't just the public that believes fairness is important for business. YouGov surveyed Members of Parliament4 in Westminster, asking them the same question about repairing trust in business. They were even more in agreement that fair treatment of others was the way back to trust. 78% of MPs selected 'fair treatment of others', whilst 36% chose 'improving operating standards'. The results amongst MPs also did not substantially differ by their political party.
The problem for business is that not only is trust being undermined by this perceived lack of fairness but also the situation is seen as getting worse. On balance the UK public thinks the behaviour of business has deteriorated over the past five years1. Whilst 23% of the public say behaviour hasn't changed, and 20% don't know, we find over a third (35%) say behaviour is worse than five years ago while just one if five (20%) say behaviour is better.
Firms need to understand how to take a demand for fairness through to action, plus how to then effectively communicate it in a way that engages, as just talking about fairness is no guarantee of success. For many of those polled by YouGov the concept of fairness is focused around treating others the way you would want to be treated and not abusing power imbalances in any relationship, with both concepts critical to a fair behaviour checklist.
However there is a clear word of caution here against simply lip-service to fairness. In 2008 the then Shadow Chancellor George Osborne highlighted 'fairness' as a word people like but in the context of its expected adoption by the then Prime Minister Gordon Brown, Osborne stated "there is a temptation to cling desperately to the words that focus groups throw up" and with him claiming 'fairness' was one of them. Osborne recalled "an attempted Conservative re-launch in 2003 was based on the theme 'A Fair Deal for Everyone'. It was not a great success - indeed we lost our Party Leader that autumn."
1YouGov-Cambridge Centre, nationally representative sample of 1637 GB Adult respondents interviewed online 15th-16th June 2017
2YouGov Trust Tracker, nationally representative sample of 1635 GB Adults respondents interviewed online 30th-31st October 2017
3YouGov nationally representative sample of 1698 GB Adult respondents interviewed online 2nd-3rd October 2017
4YouGov representative sample of 63 UK MPs interviewed online 4th-8th October 2017
Image Getty