This month, Cadburys Crème Egg is the brand achieving the biggest uplift in its Ad Awareness score.
Cadburys has recently launched its annual Crème Egg Hunting Season campaign, once again centred on Crème Egg superfan, Gregg.
However, this year, there is a twist. In the style of Willy Wonka's golden ticket, across the country Cadbury's has hidden up to 400 white chocolate Crème Eggs among the normal milk chocolate ones. Those who find and unwrap the white eggs receive cash prizes ranging from £100 to £2000.
YouGov brand tracking data shows that the campaign has resonated among the general public, with Cadbury Crème Egg's Ad Awareness score (whether or not someone has seen an advert for the brand) jumping from +1 points to +22 points from the 1st to the 18th January.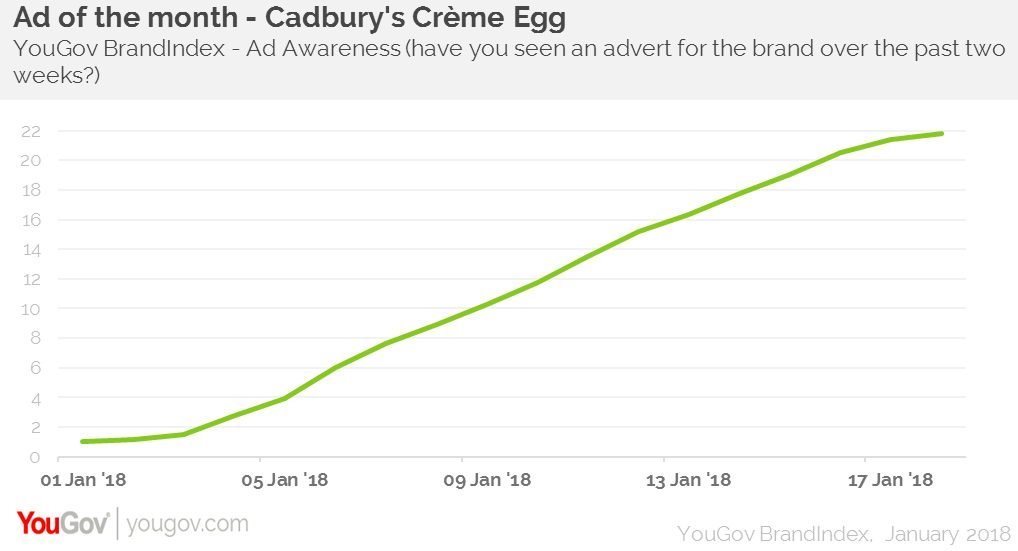 The campaign has also achieved particular cut through among those who are already considering purchasing a Cadbury's Crème Egg, with ad awareness among this group rising from +3 to +39.
The campaign has also got people talking. The brand's Word of Mouth score has gone from +4 to +15 in the same time period. Again the increase is higher among those who are already considering purchasing a Crème Egg, rising from +3 to +31. These Word of Mouth scores may have been aided by media stories suggesting that eager white egg hunters are unwrapping eggs and putting them back if they were the regular version.
Cadbury's decision to add a promotional aspect to their annual seasonal campaign has been a successful one. It seems to have reinvigorated its standing with the public after previous criticism following a recipe change.
Elsewhere, Cadbury's is refreshing its advertising across the rest of its product range. Its new global campaign will focus on 'genuine acts of generosity' as its attempts to reflect what it believes are the brand's core values.
Image Getty