MoneySavingExpert has the strongest advocates of any brand, new findings from YouGov BrandIndex reveal.
The rankings are a form of net promoter score and look at brands' current and former customers and analyse which ones have the highest proportion of people recommending them to a family member or friend.
Consumer finance information site MoneySavingExpert comes out on top with a score of +74.2, underlining the British public's desire to find a bargain, and the lengths people will go to in order to secure the best deal. The rest of the top three is made up of electronics firm Sonos (+73.1) and Universal Studios Orlando (+73.0).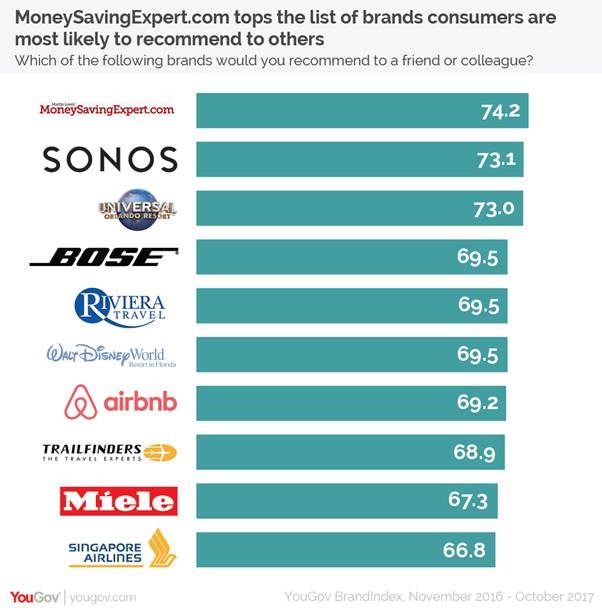 Brands from the travel and holiday industry make up a sizable proportion of the top ten. Joint fifth place is occupied by Riviera (69.5) and Disney World Florida (69.5), Airbnb is in seventh (69.2), and trailfinders.com in eighth (68.9). Singapore Airlines completes the top ten (66.8).
Consumer technology also performs strongly. In addition to Sonos, audio equipment firm Bose is in fourth place with a score of +69.5, while domestic appliances brand Miele comes ninth, with a rating of +67.3.
YouGov also reveals which brands have the most improved level of customer advocacy. Italian car manufacturer Alfa Romeo comes top (a rise of nine points), ahead of fellow car company SEAT (an eight point improvement) and Tesco Broadband (up seven points).
A recommendation from friends or family is one of the strongest votes of confidence it is possible to give to a brand. Having advocates is especially powerful when it comes to brands where consumers are looking to get the most out of their money. This is true when it comes to making cash go further with MoneySavingExpert.com, or making sure they spend it wisely to get a quality experience from travel or high-end consumer electronics.
Image: MoneySavingExpert.com