This week, Dove withdrew a Facebook advert following accusations it was racist.
The advert featured a black woman turning into a white woman after she uses the brand's body wash. The model featured in the advert has defended it, saying it was 'supposed to be about all skin types deserving gentleness'. 
YouGov brand tracking data points to how perception of Dove has shifted since the controversy began. It is a story that is getting people talking, with the Dove's Word of Mouth Exposure score (measuring whether someone has talked about a brand in the last fortnight) jumping in recent days from +2 to +7.
This is not great news for Dove, though, as its Buzz Score among all respondents (whether someone has heard something positive or negative about the brand in the past two weeks) has decreased by five points since the story emerged – falling from +8 to +1, indicating that consumers have noticed the headlines, and not in a good way. There is every chance that both the Buzz and Word of Mouth scores will move further in the coming days as the full impact of the story is felt.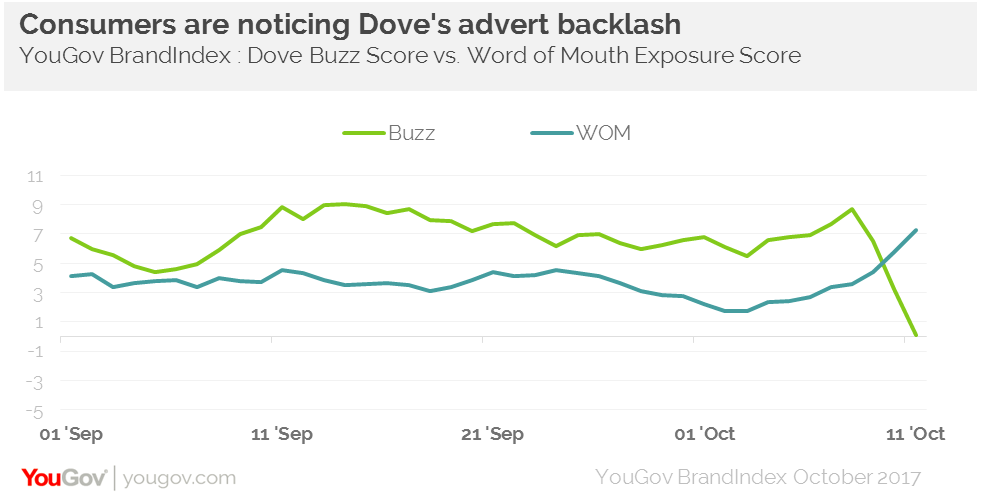 However, the good news for Dove is that although it's never great to generate adverse headlines, its overall impression hasn't been dented too much so far. The brand's Impression score among the general public has remained steady at around +40. Indeed, it has hovered at that mark for several months, meaning previous advert controversies also failed to seriously harm the company.
This has also been reflected among those that would consider purchasing a Dove product. Looking at this group specifically, its Impression score continues to hover around +75.
Dove should survive its latest advertising misstep, but it should be wary of gaining a reputation for misguided campaigns.