This month, Marmite is the brand that has achieved the greatest uplift in its Ad Awareness score (whether someone has seen its advert in the past two weeks).
Unilever, the owner of the famously divisive food brand, has recently launched Marmite's largest ever advertising campaign.
Entitled the "Marmite Gene Project", it takes the form of a scientific study looking to uncover the DNA responsible for either loving or hating Marmite. The television advert that is at the centre of the campaign shows various families opening their gene test results at home to find out whether they are born lovers or haters of the yeast spread.
Our brand tracking data shows that the ad has had a strong impact.  Among the general public, Marmite's Ad Awareness score increased from 3% to 12% since its release in early September. The ad's impact on those who are considering buying Marmite is even greater, jumping from 4% to 21% in the same time frame.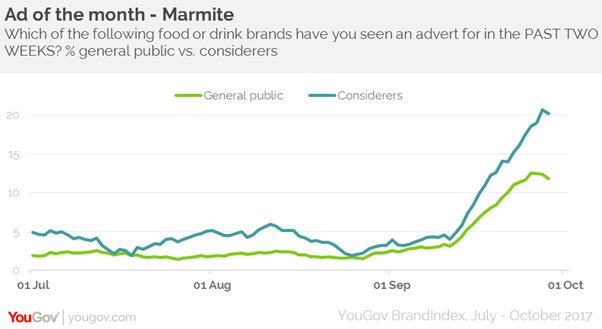 As part of the campaign, families can purchase a personal DNA kit to determine their Marmite genetics. The experiential nature of the campaign has increased the number of people discussing the brand. Its Word of Mouth Exposure score (which measures whether someone has talked about the brand in the past two weeks) has risen from +16 to +23 since the ad's launch.
While the campaign may not be enough to convert the haters, Marmite can be content that its efforts have got the public talking and that its new campaign has been well received by those who are loyal lovers of the brand.
Image: Getty