KFC's latest ad campaign is an example of a brand achieving a cut-through with its advertising, but not benefitting from the subsequent shift in consumer perception.
Its 'The Whole Chicken' ad – which features a chicken strutting to a rap song – has attracted complaints and may be investigated by the advertising regulator.
The campaign aimed to shift perception of the fast-food chain by focussing on the quality and provenance of its produce. While some have argued the advert is a fun way of conveying a message, others have attacked the brand for being 'misleading' about the cuts of meat the brand uses in its recipes.
Either way, the spot challenges a key rule of food marketing– show the finished tasty-looking meal, but not the animal it came from.
Our data indicates that the campaign has certainly achieved cut-through. KFC's Ad Awareness score (which measures whether someone has seen an advert for the brand in the last two weeks) has risen significantly. Among all respondents it increased from 18% to 25% since the campaign began in early July.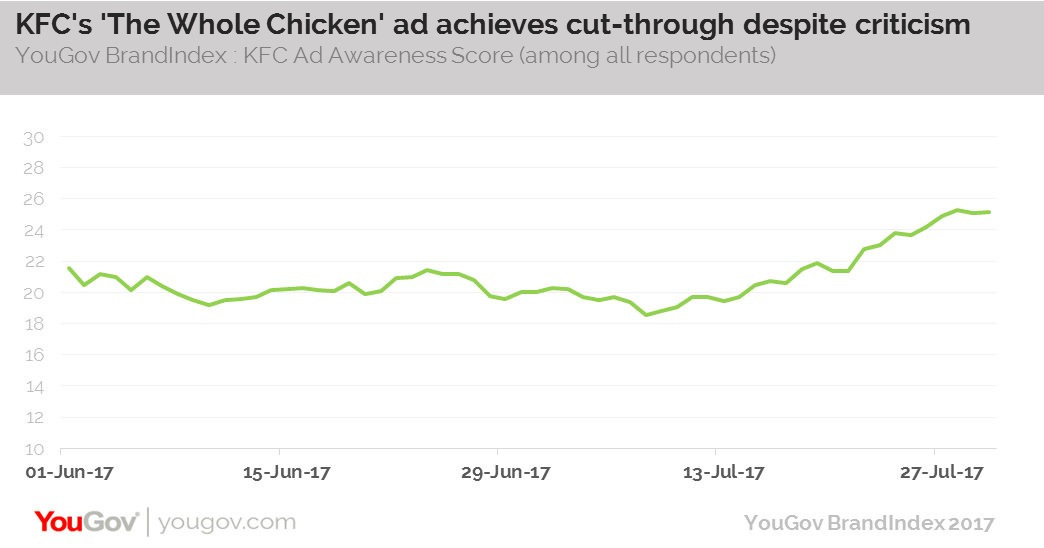 However, the bad press surrounding the advert has had an adverse effect. KFC's Buzz Score (which measures whether someone has heard something negative about the brand) has dropped into negative territory, falling from +2 to -2.
Our data points to another source of worry for KFC. Its overall Impression score has also decreased recently, declining from -4 to -7.
The Quality score has also dipped from -11 to -16, placing it above rival McDonald's, but below Burger King.
However, one big positive for the brand is that any fall out from this incident is unlikely to alter how likely prospective customers are to visit one of its restaurants. Indeed, KFC's Purchase Consideration score has remained fairly resolute over the last few weeks.
In time consumers may begin to recognise and appreciate the message the campaign tries to convey. After all, getting noticed is the first challenge when you want to change your image.
This article originally appeared in City A.M.
Image Getty