One in three (34%) think that the country will be cashless within the next 20 years, but many remain reluctant to move away from physical currency due to security concerns about alternatives, new research from YouGov reveals. 
The Cashing In report looks at how Britain is adapting to alternative payments and which groups need to be convinced about going cashless. It finds that while one in eight (13%) believe the country will do away with cash in the next decade, one in five (21%) reckon it will take between 11 and 20 years. A further fifth believe it will happen in the longer term while three in ten (29%) don't think the country will ever discard physical currency.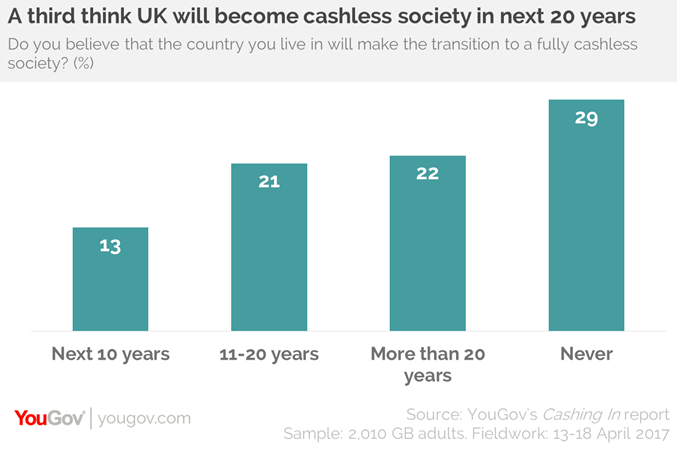 YouGov's study highlights the extent to which the country has already adopted a mixed approach to payment methods as various forms of cards and mobile payments take up more of the strain. While four in five (82%) still use cash when in-store, over two thirds (69%) use chip and pin and half (49%) use contactless on their debit cards. Usage of credit cards in various ways is lower.
Furthermore, YouGov's research highlights that the frequency of cash use is quite spotty. Only a quarter (26%) of Britons use cash every day, a fifth use it four to six times a week and a third (52%) use it three times a week or less.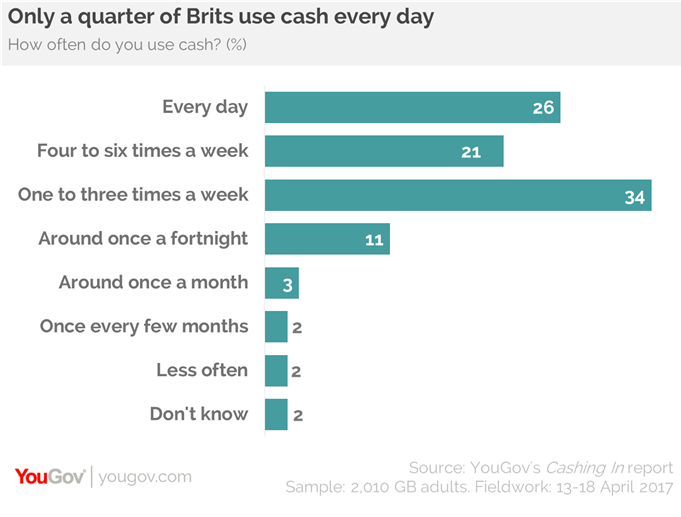 This research makes clear that we are heading towards a cashless future. Money – as with everything else – has moved on with technology. The pace and scope of the move away from cash have quickened in recent years with the advent of contactless and mobile payments. With many Britons believing that cash will be dead within a generation, the challenge for financial institutions, retailers and other organisations is to meet this head-on.
Yet while many Britons now used mixed methods to pay for things, there are still large numbers who are sticking with cash because of resistance to more high-tech payment methods. Approaching two thirds (65%) feel that using mobile or cashless payments increases the chance of suffering fraud or theft.
The report highlights particular concerns over mobile payment or deposit systems and apps.
Three in ten (31%) don't think they are secure and a quarter (24%) are concerned about malware and identity theft. Worryingly for those who offer the services, one in six (16%) don't trust providers behind the systems.
However, YouGov's study does show how providers will be able to get many more people to try phone payments. Fully one in five (20%) of those who don't currently use mobile cashless payments would be open to doing so in future.
Despite the widespread use of digital transactions, many people are not on board with the idea of a cashless society, so financial institutions and other organisations need to understand these peoples' fears and reassure the sceptics. While older people are more hesitant about paying electronically, we found that those aged 45 to 54 are more likely to be keen on trying mobile payment systems in future. This should help ensure that the move away from cash is not seen as something only for younger generations.
Image iStock