Over the last couple of weeks, two high-profiles fashion brands have encountered criticism for the way they labelled women's clothing.
Online fashion retailer Asos came under fire for advertising a pair of UK size 10 shorts as a size large, while a similar incident involving H&M hit the headlines in late May.
YouGov brand tracking data helps us to understand how the respective stories had an impact on the public's perception of the brands.
Asos's Buzz score among all respondents (that measures whether or not someone has heard something positive about the brand in the past two weeks) dropped from +3 to 0 in the period surrounding the error. Among those that would consider using the brand, the drop in score was even greater – down from +22 to +16.
Looking at H&M, its score among all respondents dropped from +4 to +1, while among considerers it fell from +18 to +9.
However, as with several crises YouGov has tracked, the brands have minimized damage by responding in a measured way. Asos in particular managed the situation well by reacting quickly to assure people it had resolved the issue.
This is evidenced in Asos's Impression score – that measures whether people have a positive or negative impression of the brand – which has in fact grown, after an initial dip following the news stories.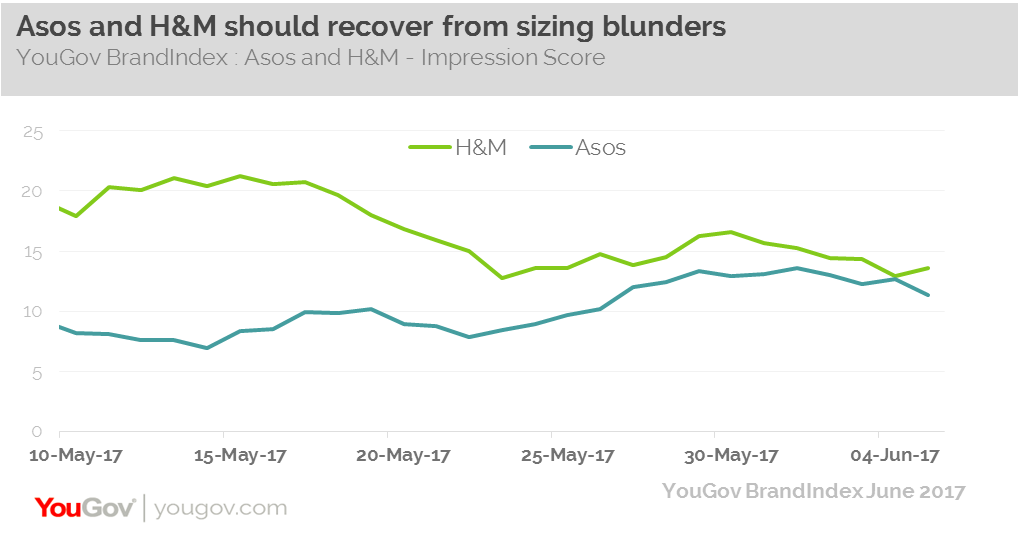 In fact, the brand has dealt with the story so efficiently that it's Index score (an overall measure of brand health) has risen from +6 to +9 in the past two weeks, indicating that Asos has in fact managed to use the crisis to help draw attention to some of the positive traits (or offers) it wishes to publicise.
It is a slightly different story for H&M. It has fared less well among women – with the brand's impression score has dropping from +20 to +15. However, encouragingly its Index has not been unduly damaged.
So, despite facing a media backlash, and a potential Twitter storm, both brands have managed to steer themselves away from trouble and remain in a good position, showing a good example of how to respond to an emerging scandal.
Image PA
This article originally appeared in City A.M.