Ownership levels of Virtual Reality headsets are outstripping those seen for wearables and tablets at the same stage of their lifecycle, new research from YouGov reveals
Our new VR: A Deeper Perspective study finds that currently 6% of the British population own virtual reality headwear. At the equivalent time after widespread release, wearables had 4% penetration and tablets had 3%.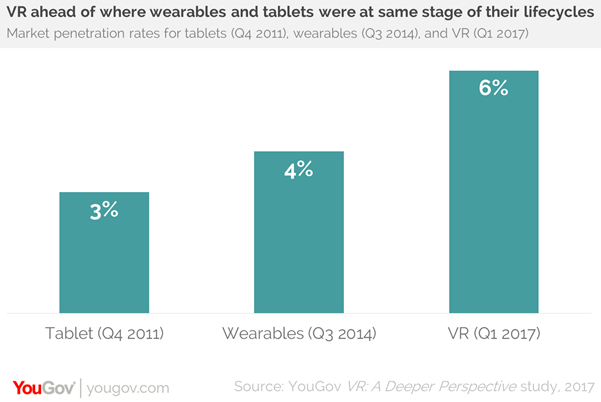 YouGov's data suggests that VR headwear has expanded rapidly recently. In Q4 2016, only 3% of the population owned some, a figure that doubled to 6% in Q1 2017. The growth is largely being driven by men (representing 56% of owners) and young people (47% of people with some are aged 18-34).
The study suggests that VR is already shifting beyond 'early adopters'. It finds that over a fifth (22%) of owners are 'second wave' purchasers and almost three in ten (29%) are so-called 'mainstream' purchasers – namely, those that that only buy new technology when they really like it. Just 15% of those with VR headsets are 'early adopters' who actively lookout for new technology devices to buy.
The implications of and applications for VR going mass market are huge. While there are obvious opportunities for games manufacturers, the real advance will come for marketers. For example, with mass adoption it is worth companies and brands investing in VR-related content, from travel companies giving people a high definition tour of a hotel or destination to sports broadcasters bringing viewers right to the heart of the action for example ITV recently partnering to broadcast the Grand National in VR, and BT who will be broadcasting the Champions League final in the same way.
Our research shows the extent to which the virtual reality boom is being driven by low-end headsets, which are helping to popularise the technology at a much faster rate than other recent pieces of consumer tech. The overwhelming majority (79%) of VR hardware owners have a headset that works with their mobile phone, with the most common being Samsung Gear (22%) and Google Cardboard (21%). However there is also an expansion at the top end of the market £300+ models such as PlayStation VR (10%), Oculus Rift (3%) and HTC Vive (3%) accounting for a 16% of the market.
This rapid advance looks like it should continue. The study indicates that a further 16% of the population are likely to get a virtual reality headset in the future, with 5% of the population looking to get one in the next year. Crucially, the next wave of owners will expand VR headsets beyond their current core constituency. Those aged over-55 making up the single largest group of people intending to purchase VR kit (27%), while approaching seven in ten (67%) of likely purchasers are over-35.
The VR headset market is polarised between low end and high end devices. The more affordable devices such as Google Cardboard and bundling of the Samsung Gear with a Samsung smartphone are initially helping to drive the rapid growth in this market. However, owners who become familiar with the technology and become converted to the benefits of it may well then start to buy much more sophisticated and expensive headsets. Should this happen, the price of higher end devices should continue to fall, which would in turn further expand the market.
Find out more about YouGov's Digital, Media and Technology research
Image iStock