With Donald Trump now installed in the White House, many wait with bated breath to see whether the 45th President of the United States will follow through on his controversial campaign promises. YouGov asked the Opinion Former's panel, which draws leaders from the worlds of business, politics, the media, charities, public sector and academia among others, for their thoughts
Opinion Formers place a great deal of credence in many of Trump's promises, particularly those to deport illegal immigrants in the US (75%), withdraw from the Paris Climate Agreement (72%) and suspend talks on trade deals such as TPP and TTIP (68%). Further, three in five (59%) believe that Trump will abolish the majority of the Affordable Care Act (also known as "Obamacare"), although while the new President has pledged to replace it with "something terrific", he has indicated a willingness to keep 'parts' of the Act. Likewise, many parts of Obamacare cannot be repealed through reconciliation and, so, are likely to remain law. A further three-fifths (61%) also believe that he will carry out an extreme vetting process of Muslims coming into the US.
Some of the new President's promises are treated with considerably more scepticism. One of Trump's major headline-grabbing  proposals was to build a wall along with Mexican border and get the Mexican government to pay for it; only 29% believe he will fulfil this pledge, while over half (55%) consider it unlikely to happen. Likewise, his idea to close parts of the internet to prevent ISIS from attracting new recruits is also deemed unlikely by 50% of Opinion Formers.
Another of Trump's campaign promises was to threaten withdrawal from NATO if US allies did not start paying their 'fair share'. Indeed, European countries spending below 2% of GDP on defence has been a sticking point for many American policymakers, even prior to Trump's Presidential campaign, as the US currently contributes 75% toward the NATO budget. Despite this, only 28% of Opinion Formers believe that the President would follow through on such a threat, perhaps particularly at a time when Russia seeks to reassert itself on the world stage. Yet, while tensions between the West and Russia appear to be at their highest level since the end of the Cold War, 62% of Opinion Formers believe that Trump will likely improve relations with Russia. What this means practically however remains to be seen; will there be a fostering of mutual respect and understanding between the two-superpowers, or will it be a sham-relationship based on an inexperienced President's naivety?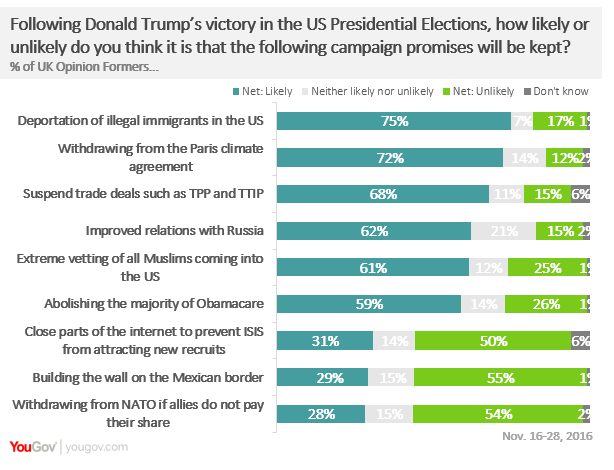 Thinking more broadly, Opinion Formers were asked whether President Trump would have a positive or negative impact in a number of areas.
Opinion Formers are most likely to believe that the new President will have a negative impact on the environment (83%), unsurprising given his climate change scepticism. In addition, at least three quarters think he will have a negative impact on gender equality (79%), and foreign relations (76%) - two areas of considerable controversy during the election campaign.
There is only one area where fewer than half of Opinion Formers think Trump will have a negative impact, and that's on crime. While one-in-five (22%) think he'll have a positive impact, 44% believe the opposite. The area where Trump is seen to potentially have the most positive impact is the economy with over quarter (27%), yet like with crime, a greater number believe that his impact will be negative (53%).
Certainly, these are interesting times we live in, and it remains to be seen what sort of impact the Trump presidency will have on the United States, and indeed the World as a whole. Whatever the outcome, there are sure to be a few surprises throughout his first term in office which YouGov shall, as ever, be on hand to track.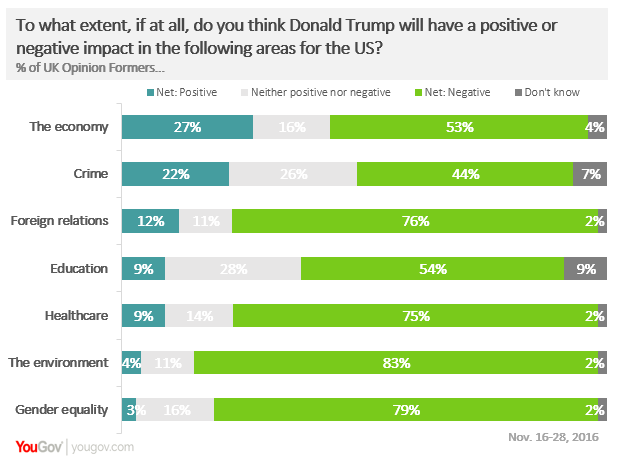 YouGov completed online interviews with 799 opinion formers from its UK Opinion Formers Panel. Opinion Formers are leaders in their field from business, media, politics, NGOs, academia and beyond. Fieldwork was undertaken between 16th and 28th November 2016. The figures have not been weighted.
Image PA