Among the 18-24 age group, YouTube is the highest rated brand according to YouGov BrandIndex.
It is narrowly ahead of Google (2nd), Cancer Research (3rd), Netflix (4th) and BBC iPlayer (5th). The rest of the top ten is made up of Spotify (6th), Amazon (7th), Heinz (8th), PayPal (9th) and Macmillan Cancer Support (10th).
The Index rating is the combination of several metrics including Impression, Satisfaction, Recommend, Reputation, Quality and Value. The overall Index score helps to underline a brand's health.
The overriding theme among both the overall top ten in the age group is of brands that allow consumers to use products on demand, and those that have proven to be an attractive and innovative addition to younger people's lives.
Netflix and the domination of streaming
Netflix is 4th in the Index score list among 18-24s. It also tops the Buzz score (have you heard something positive or negative about a brand in the past two weeks) list among that group.
The brand has continued its rise in the past 12 months, expanding its reach and attracting more and more subscribers.
It has based its appeal on exclusive content, and unmissable shows. The most obvious example of this is 'Making a Murderer'. The series became a must watch, with new subscribers flocking to the platform following its release.
The series took on a life of its own. Netflix's social strategy helped to augment its success – fostering an environment in which fans could debate the show's dramatic turns and unanswered questions.
This was reflected in YouGov's Word of Mouth Exposure Score (this metric measures whether a respondent has discussed a brand with somebody else). Netflix's rating rose by 6 points shortly after the programme was released among all respondents, and by a massive 21 points among 18-24s.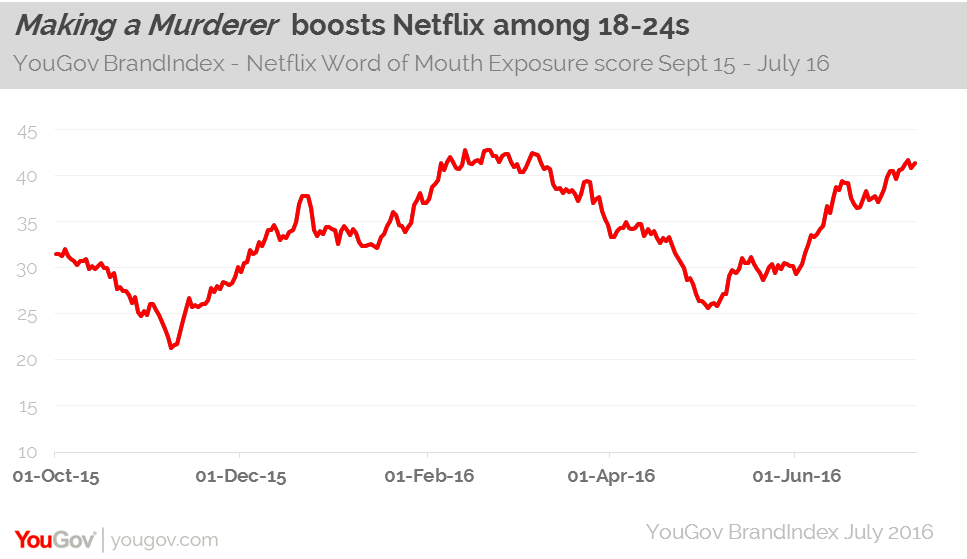 The popularity of TV streaming services is reflected elsewhere in both the 18-24s Index and Buzz lists. As mentioned, YouTube tops the Index list for 18-24s, while BBC iPlayer - bolstered by hit programmes such the Peaky Blinders and the Night Manager - remains a popular platform and is 5th in the Index list.
However, as subscription growth slows, Netflix faces a new challenge, how to move on from being a 'disrupter', and into a brand that becomes a permanent fixture in viewers' lives.
PayPal
PayPal's 'New Money' campaign was YouGov BrandIndex's Ad of the month back in April. It was a superbly targeted multi-platform campaign that encompassed tube advertising, bus stops and London underground trains.
It wasn't just Ad Awareness that grew on the back of the campaign. PayPal figures across other BrandIndex metrics have risen amongst Londoners within the last month – particularly its Purchase Consideration score. This saw a 5 point increase since the beginning of the campaign. The campaign has not only been noticeable, but effective.
This marked a watershed moment for PayPal, as it looked to break away from eBay, and establish itself in the minds of younger consumers.
As these consumers become more aware and more receptive towards mobile payment, PayPal is effectively positioning itself at the forefront of the industry.
Spotify
Spotify has remained popular in the last 12 months, despite high profile entrants into the music streaming market.
It had been beset by high profile artists such as Taylor Swift and Radiohead removing theirs songs from the service. Other, like Adele and Kanye West, finally allowed their latest albums to be streamed on Spotify well after the initial release date.
What's more, Apple entered the market with iTunes Music. Perhaps the most significant new entrant into the industry, it put existing brands such as Deezer and Tidal under even greater pressure.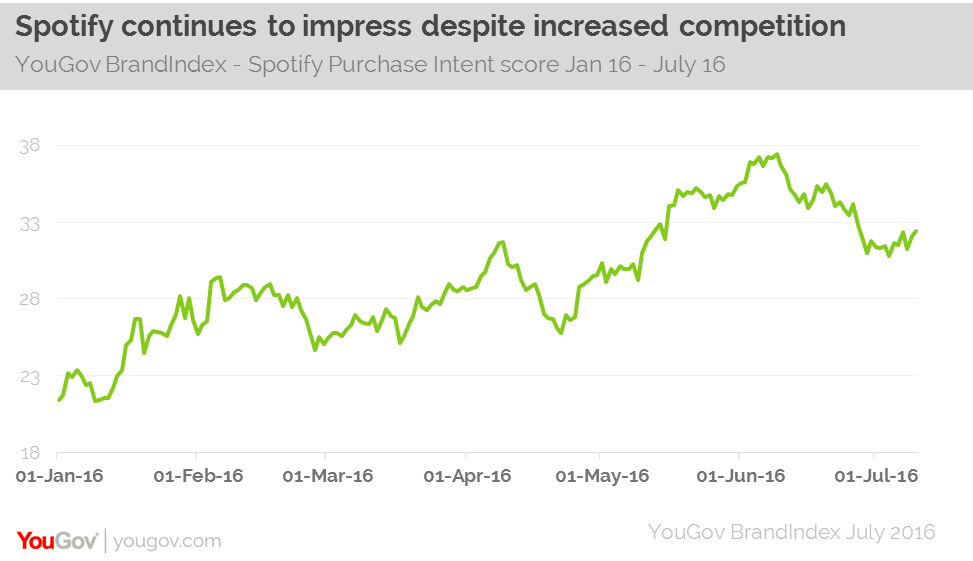 Among the 18-24 age group, Spotify continues to have success. This is evidence by the rise in Spotify's Purchase Intent ranking. In January 2016, its score was around the +22 mark, fast forward to the current day, and a significant rise to +32 is seen.
Spotify now boasts 100m users worldwide, with twice as many paid customers as Apple. Disputes between the two companies are increasing, as the battle to be the undisputed industry leader continues. With similar price structures, Spotify will be hoping that the lure of Apple's brand won't be enough for consumers to leave it behind. 
Image PA