The British Medical Associate (BMA) recently recommended that a 20% tax be levied on sugary drinks in order to combat obesity. In its report on unhealthy diets, the BMA said that the extra cash raised could be used to subsidise fresh fruit and vegetables. While the idea of a nanny state infringing on what is essentially a lifestyle choice might be seen as unpalatable to some, to others action is required as the nation's struggle with obesity appears to be reaching crisis point. YouGov wanted to know what its UK panel of Opinion Formers - which draws leaders from the worlds of business, politics, the media, charities, public sector and academia among others – thought of the proposed scheme.
Three in five (61%) Opinion Formers who participated in the survey think that the proposed scheme of taxing sugary drinks and using the proceeds to subsidise fruit and veg is a 'good idea', compared to just over a quarter (27%) who think it's a 'bad idea'.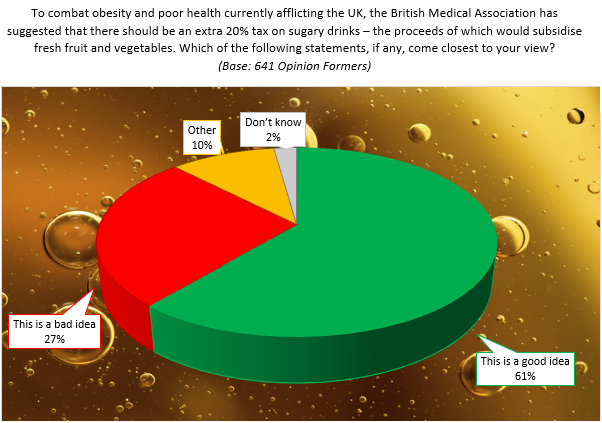 When broken down by who Opinion Formers voted for in the 2015 General Election, it is perhaps unsurprising to learn that Labour voters are most supportive of a 'Sugar Tax' on drinks, with three-quarters (76%) in favour of such a scheme. However, more than half of Conservative voters (52%) are also comfortable with the idea of Government involvement in the fight against obesity.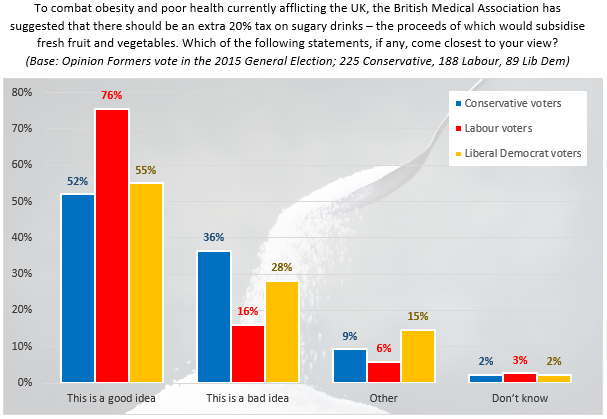 When the data is cut by which industry Opinion Formers work in, those working for charities or NGOs are the most likely to think that a sugar tax is a 'good idea' (70%), followed closely by the media (68%). Opinion Formers working in the business sector however remain less convinced, although are still broadly supportive (55%).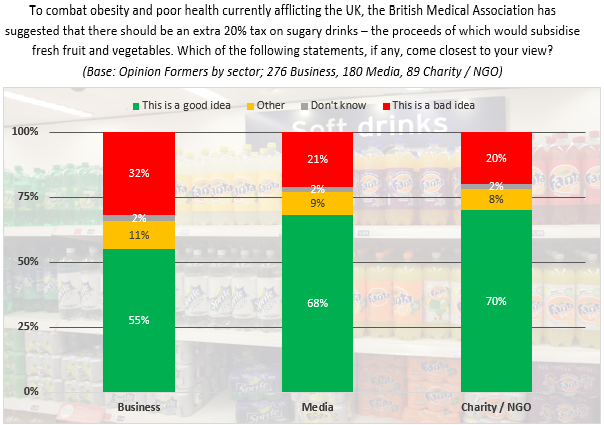 Similar 'Soda Taxes' have already been instituted in Mexico (which saw a 6% drop in fizzy drink consumption) and New York City. Given the UK's own 'obesity epidemic' and the increasing strain on the public purse to treat obesity-related illnesses, YouGov's Opinion Formers appear keen to follow in their footsteps by deploying economic methods to combat the battle with the bulge.
YouGov completed online interviews with 641 opinion formers from its UK Opinion Formers Panel. Opinion Formers are leaders in their field from business, media, politics, NGOs, academia and beyond. Fieldwork was undertaken between 15th and 25th July 2015. The figures have not been weighted.