Ovo Energy is the highest placed energy supplier on this year's YouGov BrandIndex Buzz score rankings. There are however, signs of improvement for the traditional 'big six' companies in the sector.
The rankings are based on YouGov's BrandIndex Buzz scores (which measures whether consumers have heard anything positive or negative about the organisation in the last two weeks). They show that Ovo is the only supplier which ends the year with a positive rating. It finds itself on +3.0 and top of the utilities list.
BrandIndex: Utilities & Services Top Buzz 2014

Rank

Brand

Score

1

Ovo Energy

3.0

2

AA

2.3

2

RAC

2.3

2

Post Office

2.3

5

Parcel Force

1.0
 Energy prices have been a major part of the political and social agenda during the past 12 months as consumers made clear their feelings of dissatisfaction with cost plainly clear. A Competition and Markets Authority investigation into the sector was announced in June. The challenge for utilities companies was to bounce back from the criticism and begin to regain consumer trust.
YouGov has also released scores which identify the most improved buzz score rating for 2014. Both SSE and British Gas appear in the top ten in the overall top improvers category.  The list, headed by budget retailers Aldi and Lidl, sees SSE enter in seventh position, having achieved a change in score of +6.0. British Gas is in eighth with a change of + 5.8, but has also remained negative. Elsewhere in the utilities sector there are noticeable improvements for EDF energy (+3.7 change), Southern Electric (+3.5 change) and npower (+3.3 change).
BrandIndex: Utilities & Services Improvers 2014 vs. 2013 (Based on Buzz)

Rank

Brand

Change in Score

1

SSE (Scottish & Southern Energy)

6.0

2

British Gas

5.8

3

Thames Water

3.7

3

EDF Energy

3.7

5

Southern Electric

3.5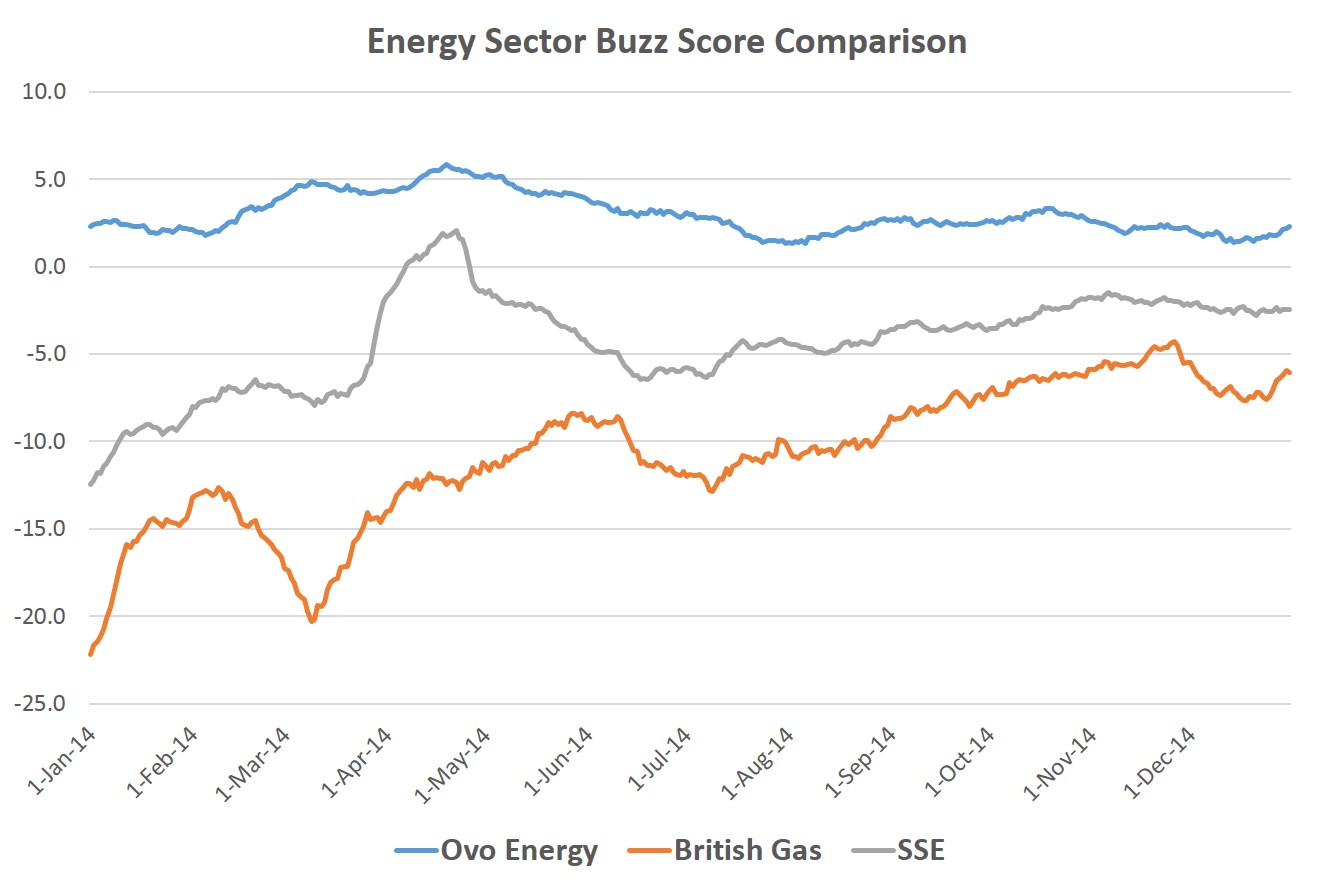 So what has driven this improvement? Sarah Murphy, Research Director YouGov BrandIndex commented on the findings: "Whilst all of the big six energy companies still have negative overall buzz scores, there are signs of improvement for them all. Increased explanation and transparency over prices by some companies may have helped, as well as re-focussed marketing efforts. Of course, political discourse moves quickly and it may be that energy prices and the 'cost of living crisis' are no longer the central issue to consumers that it was a year ago.
However, the fact that Ovo Energy shows a positive rating should act as a warning to the big six that consumers are hearing good things about smaller alternatives. Decreasing oil and gas prices may lead to pressure to reduce prices, which may then affect overall buzz scores in the months ahead however."