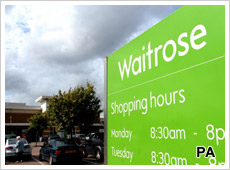 Waitrose's new widespread advertising campaign has rocketed its YouGov BrandIndex 'Buzz' score this past month. 'Buzz' is calculated by asking whether respondents have heard anything positive or negative about the given brand, and then subtracts the negative responses from the positive, to generate a score. March has been witness to a surge in the supermarket's scores which have risen 33% since the beginning of the month (9th March) to a two-month high of 25.3.
The supermarket's new marketing campaign, launched this month featuring Delia Smith and Heston Blumenthal, has created an abundance of positive interest in the store which is not only noted on BrandIndex but also YouGov's newest venture to measure public opinion, TellYouGov. Several 'tyggers' have been commenting on the new adverts (which appear on billboards and during television ad breaks) with one tygging that the 'Delia / Heston partnership looks interesting' and another claiming to have 'enjoyed the new ads with Delia Smith'.
Waitrose has consistently been one of the top topics on the TellYouGov Leaderboard. At its height, it was in fifth place, with a score of 40, just below the ubiquitous Apple iPhone.
While the brand continues to receive criticism for its prices, with tyggers calling it 'too expensive' and 'prententious and overpriced', the majority of tyggers report excellent customer service: 'staff in Clapham Junction are a delight to arrive to at the checkout!' and said 'staff were focused, friendly' and 'always helpful.' One even said: 'the fresh bread I like was sold out today so they baked a loaf for me while I shopped!' It seems the company can do little wrong, with one enthusiastic tygger claiming Waitrose to be "the best supermarket ever invented'.