The back and forth over the technology company's involvement in the UK's network infrastructure has had an impact on perceptions of the brand – and consumers' willingness to use its products
The UK National Security Council has decided to remove Huawei's 5G equipment from the nation's network infrastructure by 2027. Telecommunications companies will also be banned from purchasing new 5G equipment from Huawei starting from 2021.
It's the culmination of months of controversy surrounding the technology giant - which was initially permitted to access the network in a limited fashion before the Government's dramatic U-turn, and which has faced months of negative headlines due to its alleged ties to the Chinese state.
YouGov data indicates that, over the past six months, Huawei's buzz scores entered a period of sharp decline: starting the year at -3.3 before hitting a nadir of -21.4 (February 24th) as the row over its role in the UK's 5G network dragged on. While these scores steadily recovered, they recently cratered to -15.0 by July 13th.
This negative attention has damaged public perceptions of Huawei. Reputation scores fell from -1.6 at the start of 2020 to -8.9 by the beginning of July. This reputational damage may in turn have had commercial implications for the company's smartphone business.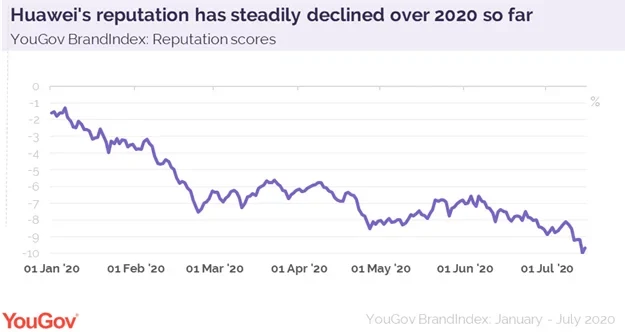 SMIX data from June 2020 reveals that 27% of British mobile phone owners "would never" choose a Huawei handset – a five percentage point increase on the proportion who said the same in June 2019 (22%).
Just 4% of this group expect their next phone brand to be a Huawei (compared to 39% for Apple and 31% for Samsung) and less than 1% say it's the only brand they would consider. Retention is also low compared to the two major players in the market: of those who intend to replace their handset and know which brands they would consider, only 38% of current Huawei owners expect their next phone to also be a Huawei device, compared to 92% of Apple owners and 84% of Samsung owners who anticipate staying with their respective brands.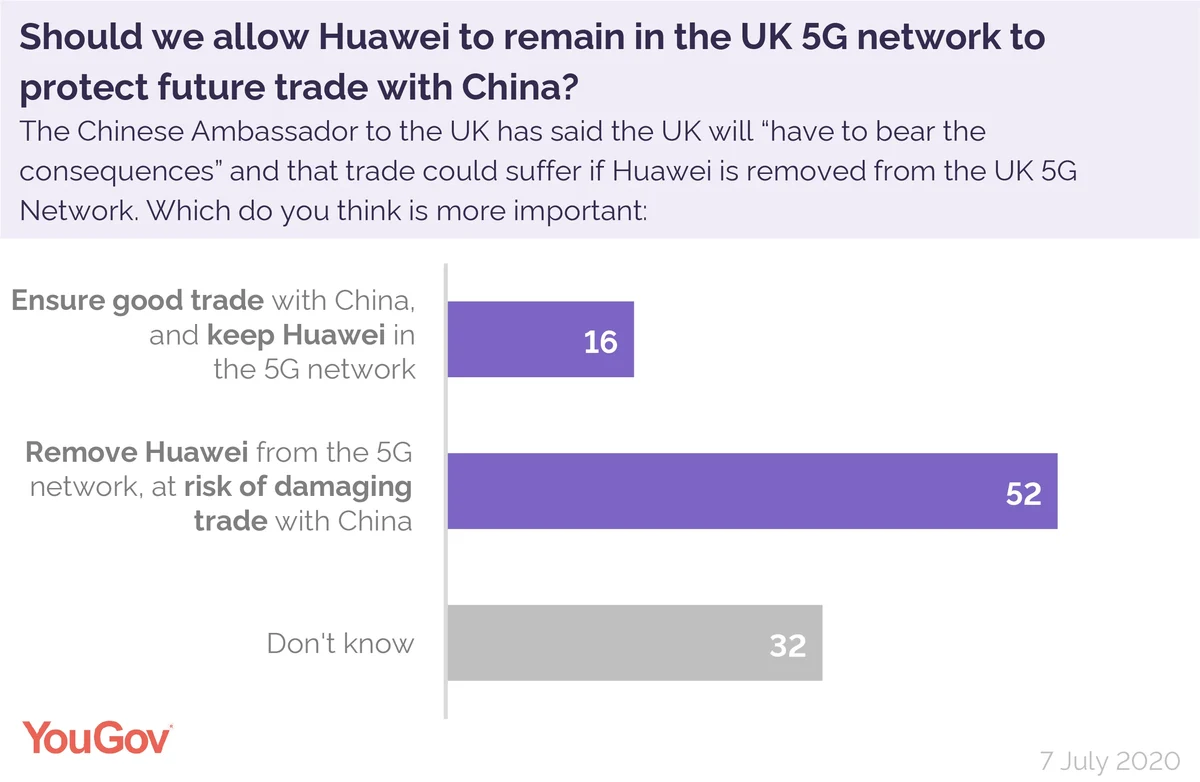 Whether this is directly related to the 5G story or not is unclear, but what is clear is that it appears to have cut through with Brits: affecting Huawei's standing among a public who would rather suffer the negative trade consequences of excluding the company from the UK's 5G network than let it contribute to its telecommunications infrastructure. A recent poll revealed that half of Brits (52%) think the UK should remove the company's products from the country's 5G networks even if it damages trade with China, with just 16% believing the opposite.