Three quarters of Britons are unaware that new government restrictions will curtail access to online porn within weeks – but those who do know it's coming think it will fail
In April new government policy aimed at preventing children from accessing pornography will come into force and require adult websites to verify that visitors are at least 18 – and simply asking them won't suffice.
Visitors will have to confirm their age using a driving licence, credit card, passport or mobile SMS. Britons will also be able to buy an age verification card in high street shops to do the same job. Only then will they be able to access the content within the website.
It's a monumental change, and the first of its kind anywhere in the world. And despite being mere weeks from implementation, most Britons are unaware of it.
New YouGov research finds that three quarters of Britons (76%) don't know that the so-called "porn block" is being introduced – only 24% said they knew it was on the way.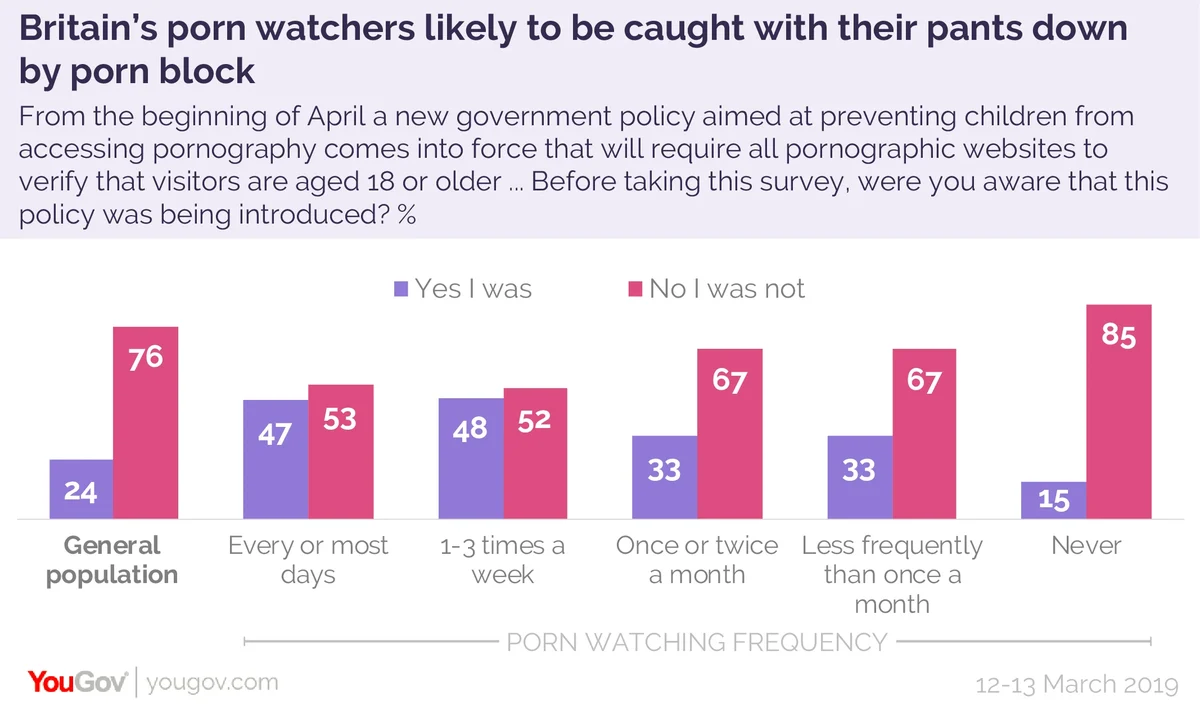 This unaware group includes half (53%) of Britain's most frequent porn users – those who watch pornography online every day, or most days.
While Britons may have been unaware of the policy, there's widespread backing for it once they know the details. Fully two thirds (67%) say they approve of the changes, although support declines with frequency of porn use. Only 28% of those who watch porn every day or most days are in favour, as compared to 48% of those who look at porn online one to three times a week, and 68% of those who indulge less frequently than once a month.
Despite this support, only a third of Brits (34%) actually think the policy will be effective at preventing those under 18 from accessing porn online. Even among those who support the policy, fewer than half (46%) think it will work well.