I have discussed criticism of the gambling sector on several occasions in this column, and how it impacted key industry players.
It appears as though many gambling brands have now relented, reacted to increased public pressure and scrutiny, and announced changes to industry governance.
In recent days, it was reported that Britain's biggest gambling firms had voluntarily agreed to a "whistle-to-whistle" television advertising ban.
There has been criticism concerning the level of gambling advertisements that potential punters are subjected to during a game. Added to this is the issue of children seeing too many adverts of this type at a young age.
But what do the public think? Following the announcement, YouGov was able to ask around 4,000 British adults whether or not they supported the 'whistle to whistle' ban. Perhaps unsurprisingly, there is overwhelming support for the move. Our data indicates that close to eight in ten (78%) think the move is the right one. Just 6% oppose the strategy, while 16% don't know.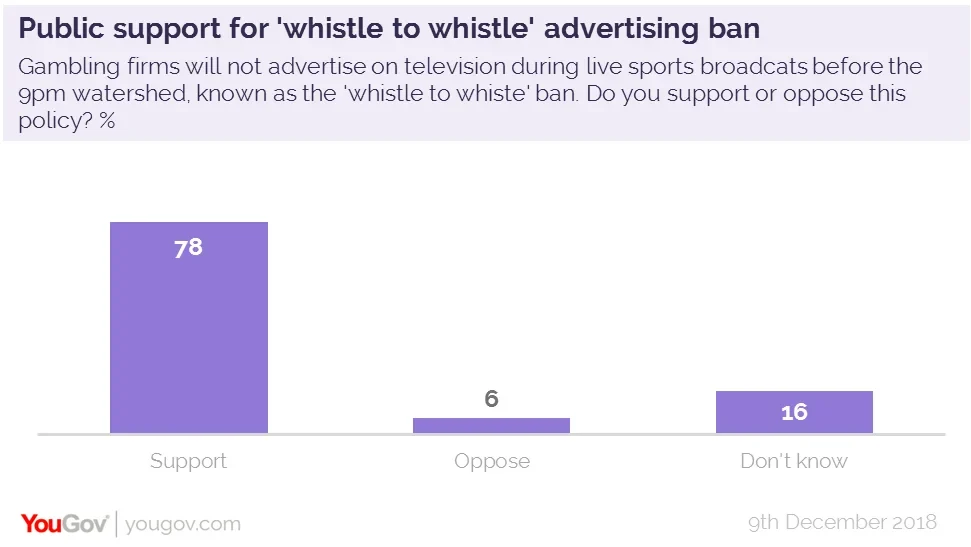 We see agreement on this point regardless of political affiliation. However, there are some interesting variances by age. While the majority of those aged between 18 and 24 do support the policy – 67% think it's a good idea – this is some way behind those aged 55 and above. In this age group, nine in ten (90%) are behind the move.
Of course, it would be naïve to imagine that gambling brands wouldn't look to exploit other avenues to recoup takings it lost from a reduction in television advertising. Digital advertising, for one.
BET 365
Advertising changes are not the only reason the gambling sector has been in the news over the last month.
There was a good deal of consternation and in some cases astonishment when it was revealed that Bet 365's founder and boss Diane Coates paid herself £217 million last year. Coates became the UK's highest paid boss as a result. It takes her far beyond advertising impresario Sir Martin Sorrell, for example.
Many would point out that Coates has not only led the business successfully, but has built it up over a number of years, and along the way has made several shrewd decisions. Certainly it is worth pointing out that the company made a £525m profit from a record £47bn of bets. Indeed, Coates herself justified her remuneration as fair recognition for the "significant growth" in the firm's gambling profit.
The news has impacted the Bet 365s brand perception scores, although the signs are this may only be for the short term.
The bookmaker's Buzz score (whether someone has heard something about a brand in the past two weeks, and if so, if it was positive or negative) dropped quite dramatically after the news emerged. Our data shows its score moved from -1 to -11. Its score is recovering, but still sits at -5.
This did have a knock-on impact for the brand. Not only did people notice the headlines, but more people had a negative impression of the company as a result.
Among the public generally Bet 365's Impression score dropped from -11 to -19 in the days following the story. The good news is that among Bet 365s customers, there doesn't appear to be the same degree of decline in score.
It is more likely that the story is something that will trouble the public in a general sense, but for those who have been satisfied customers of Bet 365, it may not have the same impact.
Learn more about YouGov BrandIndex
This article originally appeared in EGR Magazine
Image Getty