By the time the torch relay reaches the Olympic Park on Friday 27, 8,000 people will have carried it on its journey across the UK – but it can only be handed to one individual for the final, symbolic act of lighting the flame to open the Games.
So far, Olympics organisers have kept tight-lipped about who will be chosen to light the flame, with reports that the decision has yet to be made, speculation that whoever it is will only find out on the day itself, and that there may be a row brewing behind closed doors about who should be selected for the honour.
With just hours to go until the Olympic cauldron is lit in Stratford, YouGov's SportsLab started the Olympics discussion rolling by asking – What sort of qualities should the ideal Olympic flame-lighter have, in your view?
Represented in the Wordle below is what you said:

We then asked – with these qualities in mind, who would you most like to see light the Olympics flame, to officially open the Games this Friday?
Sir Steve Redgrave

was chosen by the largest proportion of those who took part in the discussion as the person they would most like to see light the Olympic flame at the opening ceremony.
Those who chose the Olympic rower, one of only four Olympians to have won gold medals at five consecutive Olympics games (from 1984 to 2000), cited his sheer athletic achievement as the main reason why he should light the flame.
Many described Sir Steve as Britain's 'greatest ever Olympian', and said that his extraordinary dedication to his sport embodied the Olympic spirit.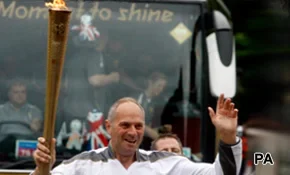 Bradley Wiggins

was selected by the second largest proportion of participants as the individual they would most like to see light the Olympic flame on Friday.
In addition to winning two bronze, one silver, and three gold medals at the 2000, 2004 and 2008 Olympics Games, Mr Wiggins recently became the first Brit to win the Tour de France.
Those who said he should light the Olympic flame at the opening ceremonies cited his 'sportsmanship' in the way he treated his rivals during the Tour de France, as well as his achievements at past Olympic Games.
And in third was Daley Thompson

as the person participants would most like to see light the Olympic flame.
The decathlete won gold medals at the 1980 and 1984 Olympic Games, and broke the world record for the event four times.
Participants who said he should be the one to light the flame on Friday described him as the 'supreme athlete' for his versatile athletic ability, and praised his 'determination' in achieving his Olympic goals.

Tonight the mystery will be revealed when the final torch-bearer steps up to light the Olympic cauldron...
Let the Games commence!