On the players, Wimbledon, the women's game in the media, and their ultimate mixed doubles pair…
__________________________________________________________________________________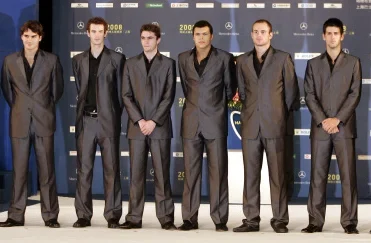 Roger Federer has many fans in the tennis SportsLab. Nicky N explains that he is "[c]onsistent with great humility. A great, athletic and intelligent player to watch. He has been on a great journey in his career and still has so much left in him. A true great." Ann A joins many in highlighting his friendliness and approachability. Rod notes that he "is complimentary to other players and never makes excuses when he performs below his usual incredibly high standards." Walter S states that Federer "has it all-skill, temperament, personality, modesty, humility, good humour, generosity of spirit. Everything you would want to see in your sporting hero."
Rafael Nadal's fans highlight his honesty, attitude and, in many cases, his looks. One anonymous fan left us with this simple quip: "Great attitude, better body!" Several mention the fact that he "never gives up", and Peter H suggests that Nadal "demonstrates that it is possible to get to the top at tennis by extreme effort, even though there are possibly more naturally talented players on the circuit."
Andy Murray is another popular choice, although SportsLabs fans do not feel he can lay claim to being the best in the world. Addi explains that "[a]t last we Scots have a tennis player to be proud of and who can compete with the best. Wasn't much of a tennis fan till he came along but now I am hooked". Indeed, many of his supporters list patriotism, either as Scots or as Brits, as an underlying reason for backing him. Other reasons include the "skill, strategy and power" he displays and the way he "plays with his heart on his sleeve".
Jo-Wilfried Tsonga also received some backing from tennis fans in the SportsLab, who point to his smile, power and energy.
However, the majority believe that current world number one Novak Djokovic is the best player on the circuit, even if Nadal, Murray and Federer are more popular with SportsLab's tennis fans. Steve Goss argues that "defensively the man is incredible, [he] makes opponents want to hit the lines more and more throughout a game as very often there is no way past him during baseline rallies… [He] has grown as a competitor over the last few years [and] doesn't lose his head or make silly shot selections on vital points as he was prone to." Jaclyn states that Djokovic has "a range of almost perfect shots - he has the ability to compete side to side faster than most and he's exciting and innovative to watch." "His record speaks for itself" was a recurring theme in participants' answers.
Others do argue for Federer or Nadal being the best, however. Sue argues that Federer is "a consistent craftsman of tennis. He has been at the top of his game for some time and continues to be so", while Nadal's ability to compete on all surfaces, his determination and his "captivating style of play" are all cited as evidence for him being the best.
__________________________________________________________________________________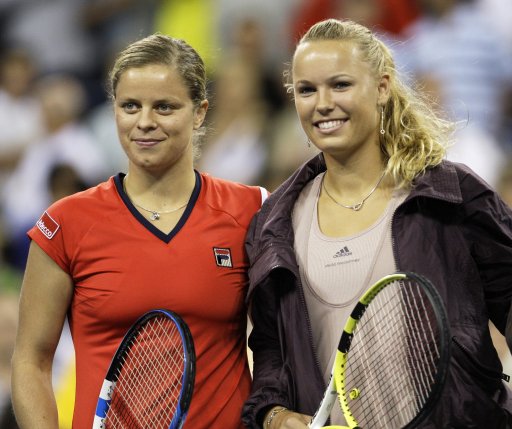 The women's tour
Maria Sharapova was a popular choice as tennis fans' favourite female player in the SportsLab. "Not only is she easy on the eye but she can play", explained one anonymous respondent. W.S. thinks that she is "mean and moody yet totally focussed on her game, and a very entertaining player, great to watch."
Kim Clijsters also featured highly. Jaclyn says that Clijsters "epitomises the ultimate in female competitiveness[:] her range of shots, her ability to retrieve and defend as well as attack and [her] finesse. Few women can match her when she's on form and she's an amazing person, genuinely modest and genuinely nice!" Another participant explains that Clijsters tops their list because she has "come back from injury, retirement and childbirth and has got even better than she was before"
World number one Caroline Wozniacki is another popular figure among the tennis fans who participated. Howard argues that he likes her because "she plays terrific tennis and does so without using the off-putting screeching and shrieking some of the other top players employ - which is gamesmanship in my opinion, designed to distract their opponents." Many also believe that, despite not having won a major, Wozniacki's ranking at the top of the women's game is accurate, primarily because of her consistency.
The other player many consider to be the best in the women's game is Serena Williams. Roobers explains that she can "win slams… without even playing very often. That either says a lot about her, or the current level of the women's tour; probably a bit of both."
The women's tour and the media
Most SportsLabs fans feel that the women's game receives adequate coverage in the media, but a substantial majority feel it does not get enough attention. The reasons for this vary, but frustration at grunting was cited repeatedly in answers. Steve Goss points to the lack of British women at the top of the game, suggesting that "until now in Britain… there has never been anyone to support." Howard argues that the greater pace and power in men's tennis pulls in more viewers, but one respondent suggests that the reduced power compared to the men's game actually makes for "high class rallies by the top players".
__________________________________________________________________________________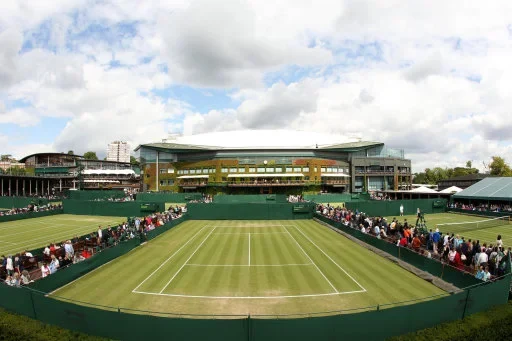 Unsurprisingly, Wimbledon is the favourite major tournament for the vast majority of SportsLabs tennis fans. Ashe captures the feelings of many when stating that at Wimbledon, "I can watch all the matches on terrestrial television. In addition, the British media (both print and broadcast) covers Wimbledon extensively compared to the other tournaments. I also like the how Wimbledon sticks to its traditions and therefore stands out against all the other tournaments. The green lawns, strawberries and cream with the occasional downpour!" Intriguingly, despite the new roof on Centre Court, the weather's unpredictability was a fond, recurring theme in the answers we received. History also plays an important part for some, with Daryl Channing noting that "with the history and legends that Wimbledon has seen there is no better arena for the very best." The grass surface also plays a part for a number of respondents, while one anonymous fan argues that Wimbledon is more entertaining because of "the overblown hype [followed by] the crushing hopes of the home crowd as the local hero crashes out."
__________________________________________________________________________________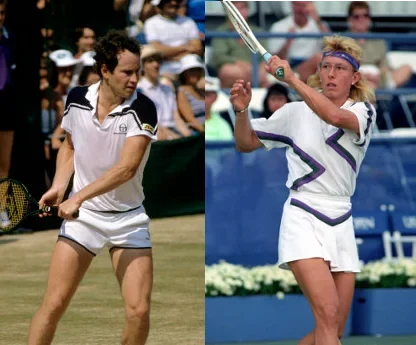 Finally, we asked participants to name their ultimate mixed doubles pair. Martina Navratilova and John McEnroe dominate the responses. Their talent is one reason, but so too is their success in the doubles format. "At th[e] top of their games, no one was better. Also, they both played and enjoyed doubles at the highest level at the same time as singles, and virtually no current players could say the same", opines one anonymous SportsLab tennis fan.
Behind Navratilova, Steffi Graff and the Williams sisters are popular choices, while Pete Sampras, Bjorn Borg and Andre Agassi feature strongly on the men's list along with current stars Federer and Nadal.
Labs Method statement
YouGovLabs research is anecdotal, with polls being open to anyone who wishes to take part. In contrast to YouGov's Public Opinion polling, YouGovLabs seeks to understand the attitudes of specific subsets of people: sports fans tell us how they feel about sports and music fans tell us how they feel about music, for example. YouGovLabs results are unweighted, and figures reported do not reflect the attitudes of the population as a whole