Two-thirds of British football fans oppose a 'European Super League', and only fans in France and Finland support the idea
Tonight the Champion's League final kicks off as Real Madrid face Atletico Madrid. Europe's premier club competition could, however, soon be under threat from a new breakaway "European Super League" - an idea has been muted time and again. Speculation about the new league intensified earlier this year, fueled by secret talks between England's biggest clubs and the American billionaire Stephen Ross. The proposals would see the same elite clubs from around Europe compete each year, locking out smaller teams that could otherwise qualify on merit - such as Leicester City and Tottenham this season.
But many fans don't like that idea – especially in Britain. New YouGov research across seven European countries reveals that in Britain two-thirds of fans are against any new Super League, and only fans in two countries actually back the idea.
Across the seven countries surveyed, support in Britain is the lowest – only 21%. Support is higher in Scandinavia, despite the fact it would be hard if not impossible for Scandinavian clubs to get in to such a league. In Sweden (38%) and Denmark (37%) support is greater than the UK. Only in Finland and in France (both 54%) are football fans supportive of the idea.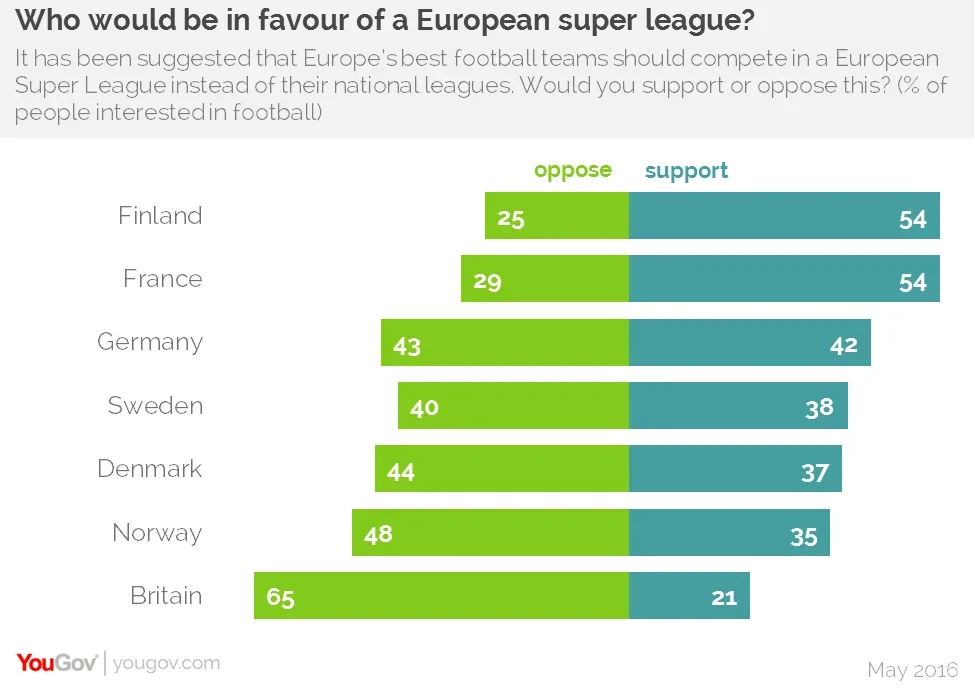 Things are more complicated in Germany (where Bayern Munich clinched their 4th successive title by 10 points at the weekend) opponents and supporters are virtually tied, 43% against to 42% in favour.
PA image