With the much-anticipated World Cup 2010 kicking off in a matter of hours, and England's first match taking place tomorrow, today is an extremely exciting time for many football fans. Difficult choices no doubt lie ahead for England Manager Fabio Capello, but if he starts to struggle he could take some advice from football fans in Britain.
A survey on behalf of the Sun newspaper asked people who are interested in the World Cup who they would have included in the 23-man squad for the tournament. Based on the results, a starting eleven can be put together using the most popular players (see diagram below) in a four-four-two formation consisting of one goalkeeper, four defenders, four midfielders and two strikers.
According to football fans, Manchester United striker Wayne Rooney is the first name on the team sheet - a massive 90% included him in their squad. Joining him upfront is Tottenham Hotspur's Peter Crouch, a player almost as famous for his popular robotic dance goal celebration as he is for his footballing skills. 85% would include him in their squad.
Equally, the midfield choice does not seem to provide too many problems for fans. New England captain Stephen Gerrard and Chelsea's Frank Lampard and Joe Cole are by far the most popular midfield players, receiving 88%, 87% and 86% of the public vote respectively. Aaron Lennon completes the midfield with 75%, while Gareth Barry and James Milner missed out with 70% each.
In defence, left-back Ashley Cole (83%) and central defenders John Terry (82%) and Rio Ferdinand (81%) seem to be the easy pick while Jamie Carragher's return from self-imposed international retirement seems to have support from fans: he received 75%. Carragher's rival for right-back position Glen Johnson just misses out after receiving 72%. However, as Ferdinand has since been ruled out of the tournament through injury, Johnson makes the England fans' defence if only fit players were considered.
Completing football fans' starting line up is David James, who with 81% is the most popular goalkeeper ahead of West Ham's Robert Green (74%) and Manchester City's Joe Hart (72%).
Fantasy lineup - Top row: Rooney (90%), Crouch (85%), Second row: J Cole (86%), Lampard (87%), Gerrard (88%), Lennon (75%), Third row: A Cole (83%), Terry (82%), Carragher (75%), Johnson (72%) and Bottom row: James (81%).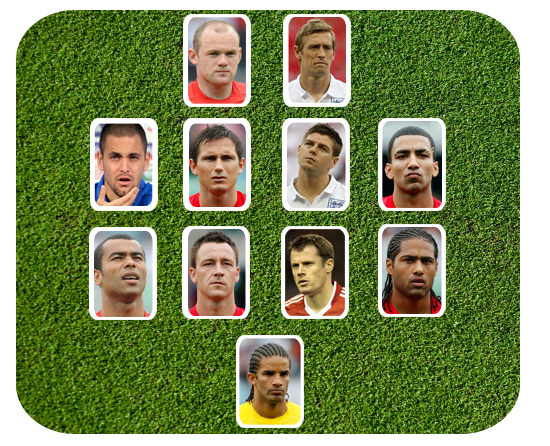 All images courtesy of the Press Association