Most British people support the legalisation of assisted suicide where the terminally ill person is able to make the decision themselves, a survey has found. In light of recent media coverage surrounding the right-to-die campaigner Debbie Purdy, 56% of the 3874 people asked indicated that they felt that assisted suicide was acceptable if the demand to die came solely from the terminally ill patient.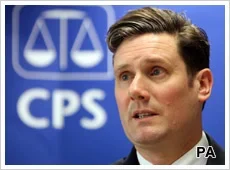 An overwhelming 88% of people in total would support the legalisation of euthanasia in some form. In addition to those who felt that the terminally ill person should alone be able to make the decision to end their life, 18% went further and said they felt that very close family members should be able to make the decision out of compassion, while 14% indicated that they would support the legalisation of assisted suicide in exceptional circumstances. In contrast, only seven percent of those surveyed indicated a full objection to legalising assisted suicide. This may perhaps be because a large proportion of the public still hold fears over retrospective prosecution.
'Mitigating factors'
When questioned about their thoughts on Keir Starmer, the Director of Public Prosecutions's recent introduction of 'mitigating factors' for judicial consideration, which state that in order to escape criminal prosecution, the person assisting suicide should be motivated by compassion, should have attempted to dissuade the patient, be assured of the patient's personal and voluntary determination to die, offer only minor help, and report the suicide to the police, 38% indicated that these proposals don't go far enough, because, as Starmer himself admitted, they do not pre-empt the possible prosecution of someone assisting in a suicide.
36% of those asked described Starmer's proposals as 'sensible', feeling that they covered the issues well. Only 10% characterised the proposals as a 'worrying' step towards the legalisation of euthanasia.
Lack of clarity
While the subject of euthanasia is bedevilled by a lack of definitional clarity, these results suggest that there is considerable support for the qualified legalisation of assisted suicide, even if there is a certain lack of consensus as to what form it should take, and how far it should reach.
For full survey details and results, please click here and here