British people tend to disapprove of the decision to kill a gorilla to protect a child at Cincinnati Zoo. Americans disagree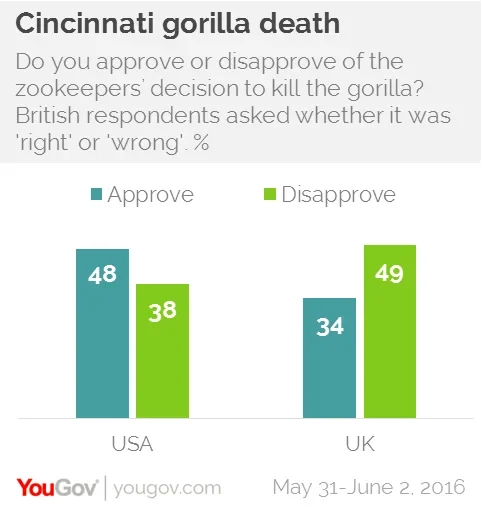 Prosecutors in Ohio have announced that no charges will be brought against the parents of a three year old who fell into the gorilla enclosure at a zoo in Cincinnati. The child, who slipped away from his parents, fell into the enclosure and was then dragged around by an agitated gorilla who was eventually shot and killed by zookeepers. The decision to shoot the gorilla, named Harambe, has been criticized by some who say the tranquilizer should have been used, but zookeepers defend their actions and insist that tranquilizers would have taken too long to work and left the young child at continued risk.
YouGov's latest research shows that while Americans tend to approve of decision to kill Harambe, by 48% to 38%, British people tend to say that it was the wrong decision (49% to 34%).
Attitudes to the killing of Harambe differ significantly according to whether or not someone has a favorable or unfavorable opinion of zoos. Most Americans (68%) like zoos, but 23% have a negative view. Most (54%) who have a favorable view of zoos also support the decision to kill the gorilla, but a majority (56%) of Americans who have an unfavorable view of zoos also disapprove of killing the gorilla.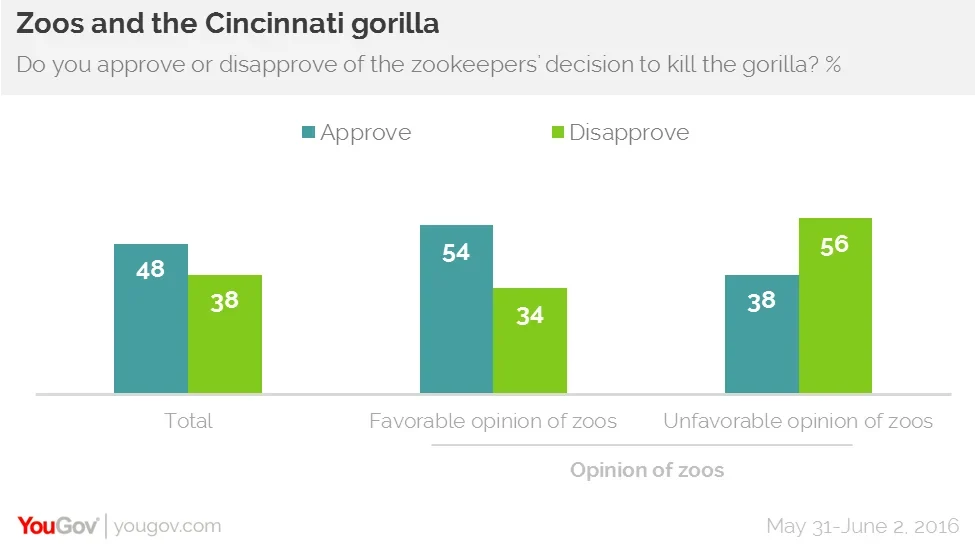 One thing Americans do widely agree on is the threat posed by gorillas. 82% of Americans say that gorillas are at least 'somewhat' or 'very' dangerous.
Full poll results and margin of error can be found here.