David Dimbleby is also a favourite in a public poll of candidates for the BBC Trust job
The announcement that Lord Coe, the Conservative party's preferred candidate, has dropped out of the running reportedly leaves leaving the race for Chairman of the BBC Trust wide open. The last chairman, Lord Patten, stood down earlier this summer for health reasons.
A new YouGov poll suggests the BBC should look at recruiting from within the organisation's own ranks.
By the slimmest of margins, comedian and QI host Stephen Fry tops YouGov's list, with the support of 16% of British people. Question Time presenter David Dimbleby is at 15%, technically in a statistical tie with Stephen Fry. The recently retired Jeremy Paxman and Lord Coe are next in line with 11% and 10%.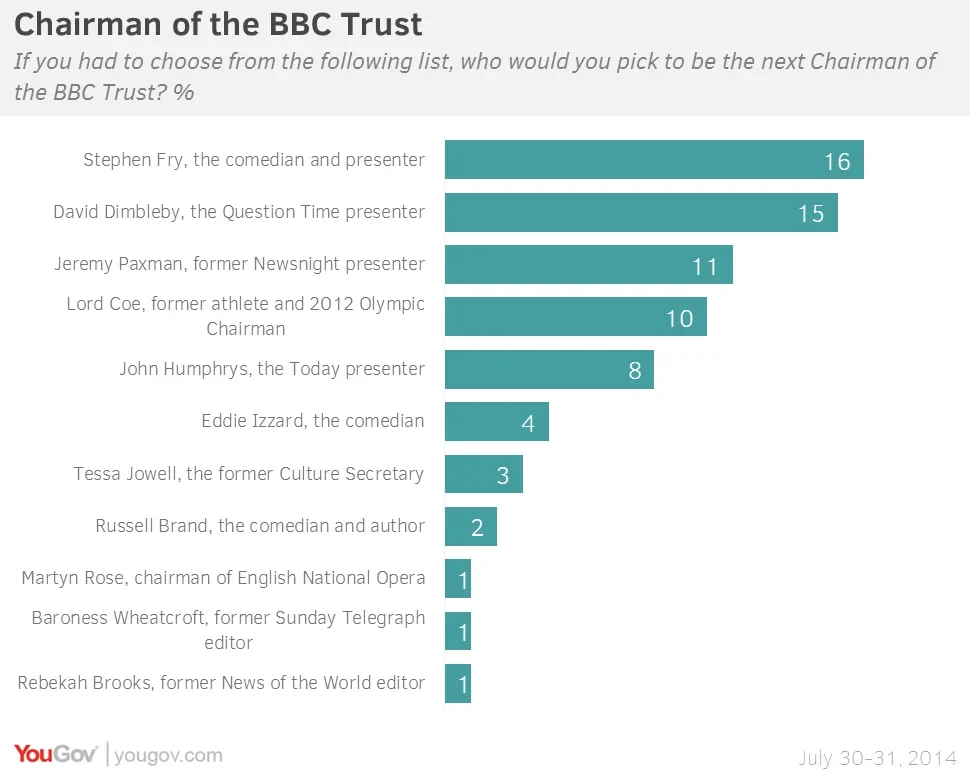 The list itself included Lord Coe and others who have been mentioned as contenders – like Baroness Wheatcroft and Martyn Rose – but also less conventional prospects like comedian Russell Brand and former Culture Secretary Tessa Jowell. Aside from Lord Coe, the more likely contenders did the worst among the group, though part of that likely has to do with their comparatively low name recognition.
The government is thought to have already provided a four-to-five person shortlist for the chairmanship, with first-round interviews taking place this week.
Image: Getty