With support for conventional sanctions on the rise, British people back punishing Russia in other ways
Deputy Prime Minister Nick Clegg has joined calls by German politicians to strip Russia of the 2018 World Cup for the country's backing of separatists in Ukraine. Mr Clegg told the Sunday Times the move would be an important "symbolic sanction" that would hit Vladimir Putin's "sense of status". He also called for the Russian Formula One Grand Prix, which is planned for October, to be cancelled. However, Fifa has said it would be inappropriate to move the World Cup for political reasons, and Formula One boss Bernie Ecclestone has also rejected calls to cancel the Russian Grand Prix.
Last week YouGov polling showed support for trade sanctions had risen since March, and in the latest poll for the Sunday Times support has edged up again, with nearly two-thirds (65%) in favour. Only 11% are opposed to trade sanctions against Russia.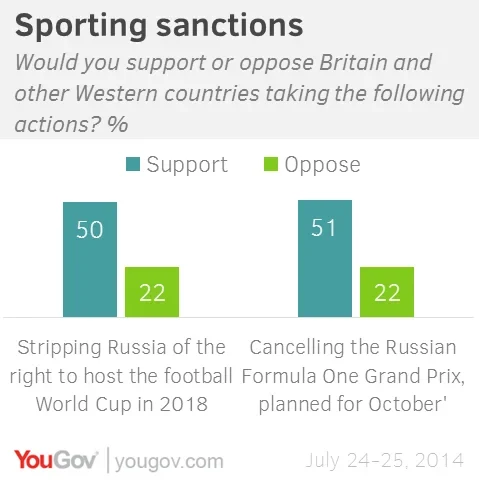 The latest poll also asks whether Russia should be stripped of the right to host the World Cup in 2018, and finds 50% back the move. 22% oppose it. This includes support from at least half of voters from each major party; with 62% in favour, UKIP voters are most supportive.
There is a similar level of support (51-22%) for cancelling the Russian Formula One Grand Prix.
Voters are comparatively less supportive of other unconventional sanctions, such as banning Vladimir Putin from travelling to European Union countries (40% are for doing this, 31% against).
Compared to earlier in the week, when plans for new sanctions were still in the early stages, the public appear marginally more interested in a "tougher" response from the key Western parties involved. 46% want a tougher response from the British government, up from 42%; 43% want the same from the US, up from 39%; and nearly six in ten (59%) now want a tougher response from the EU as a whole, up from 55%.
44% want sanctions on Russian gas, even after respondents were told such sanctions would probably increase gas prices in Europe. Only a quarter of the public think there should be no sanctions on Russian gas. However, opposition to providing military aid to Ukraine remains high.
Image: Getty