The low-cost airline sector is currently in the spotlight. While much of the focus has been about Ryanair's charm offensive to reposition itself, another carrier – Flybe – has also made waves in recent months.
A few weeks ago, Flybe announced a return to profits and a record number of passengers. After a few turbulent years when the company undertook extensive restructuring, in April it launched a multimillion pound advertising campaign. The activity focussed on 'time saving travel', portraying the brand as a better and quicker way of travelling than road and rail.
We have used YouGov's BrandIndex to look at whether the adverts have had any impact on the public. The good news for Flybe is their 'think minutes not miles' TV campaign, seems to have resonated with consumers. The ad awareness metric (which assesses whether people have seen a brand's advert over the previous two weeks) shows that Flybe's score rose from 3.6% at the end of March, to a high of 6.7% midway through April – after the start of the marketing activity.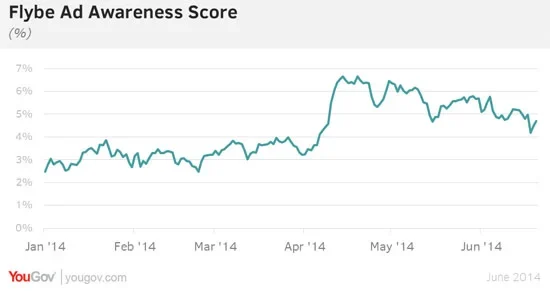 Over the same time period, the success of Flybe's advertising campaign was mirrored in its Buzz score (that measures whether consumers have heard anything positive or negative about the brand over the previous two weeks). At the turn of the year, Flybe had a negative rating (-1.6), however, at the end of May once the campaign had been running a while, that rating had improved to a respectable +3.9.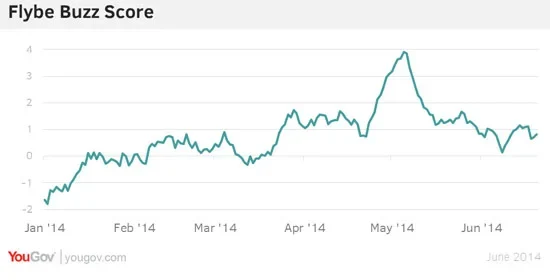 Of course, the low-cost airline sector is very competitive and one improved set of results, record passenger numbers, and a resonant advertising campaign does not mean Flybe can rest on its laurels. The battle of the budget carriers will continue, but the signs are good for Flybe as it continues its battle for consumers' hearts and minds.
Find out more about BrandIndex