62% of the public say Qatar should be stripped of the right to hold the World Cup and 65% say Sepp Blatter should resign – while most are unsurprised by alleged Fifa corruption
Over the weekend the Sunday Times revealed a tranche of secret emails, letters and bank transfers which it alleges prove Qatari football official Mohamed Bin Hammam paid £3m to officials to support Qatar's bid for the 2022 World Cup. The paper suggests Bin Hammam's year-long strategy was to pay for a bloc of support, which would then influence the four African committee members who could take part in the election to decide where the competition is held.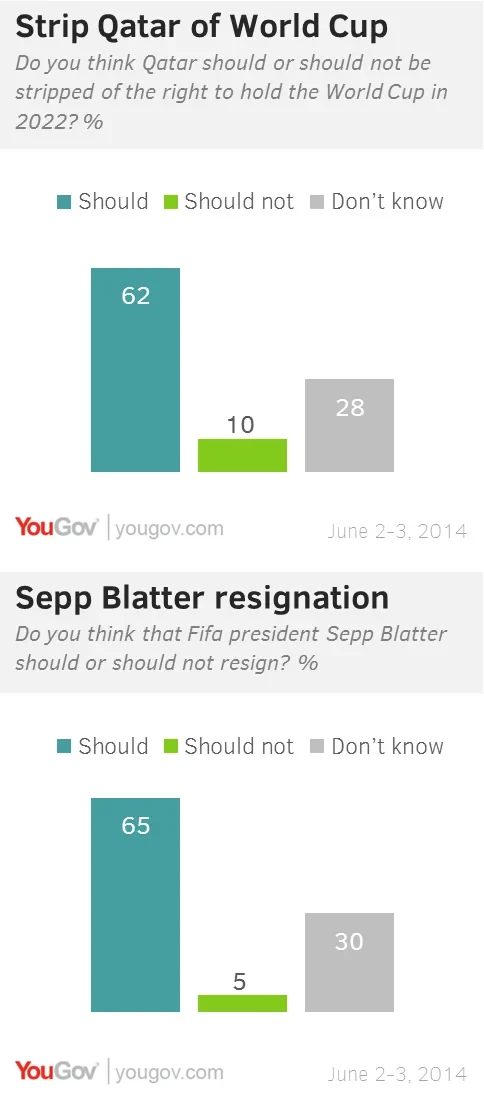 Qatar deny any wrongdoing, but a new YouGov survey finds that 77% of British people, and 90% of football fans, think the decision to hold the world cup in Qatar was influenced by bribery and corruption. Just 4% think this is false.
Fifa's vice-president Jim Boyce says he would support a re-vote to find a new host for the 2022 competition if corruption is proven. 62% overall and 77% of those interested in football say that Qatar should be stripped of the right to hold the World Cup, while only 10% say it should not.
Previously, Fifa president Sepp Blatter faced calls to resign after he admitted the decision to award Qatar the World Cup, despite it reaching 50 degrees in summer, was a mistake, and politically motivated in part. Now, 65% overall and 84% of football fans think he should resign while only 5% think he should keep his job.
Despite the scale of the alleged conspiracy, few people are surprised. Defence minister Anna Soubrey said "Somebody somewhere has got to get a serious grip on Fifa about the way that they run these competitions"; the former director of public prosecutions called Fifa a "cesspit"; and the majority of the public (72% overall and 84% of football fans) say the allegations are predictable – 'Fifa is a corrupt organisation that has just been caught out'. Only 8% think the blame lies more with Qatar than Fifa.
Image: Getty