Most London business opposed the recent tube strikes, though only a minority report being negatively affected
Last week Prime Minister David Cameron announced that the Conservatives would introduce a threshold for union ballots for public sector strikes if the party wins a majority in the 2015 general election. The comments come after strike action by London Underground workers was suspended earlier this month, following three days of strike action at the end of April. Mr Cameron argued that disruption and delays caused by the April strike action could cost London £150m.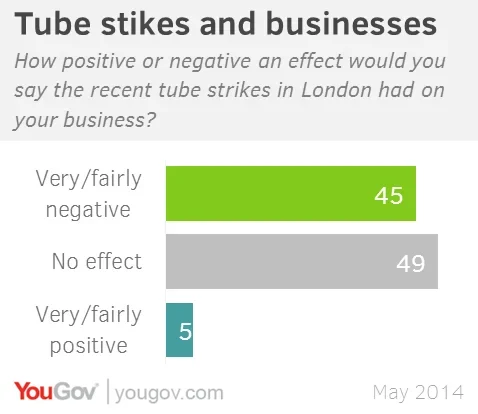 A new YouGov survey of decision makers finds that 45% of businesses surveyed in London were negatively affected by the strikes, including 10% who report a "very negative" effect. But half (49%) report no effect at all and a small minority (4%) say the effect was positive.
For those who saw a negative effect, the main reasons cited were that employees had to leave early or arrived late (67%), were unable to get to work at all (52%) or were simply less productive (51%).
However, even if only a minority actually felt negative impacts from this round of tube strikes, the majority (65%) of London business decision makers opposed them. 24% supported the strikes.
London Mayor Boris Johnson wants legislation passed that would make strikes unlawful if less than 50% of staff turn out for the strike ballot.
If you would like to find out more about YouGov's Business Omnibus Services, please visit the website