On foreign takeovers of home-grown companies, British people favour intervention and are sceptical of the benefits
The prime minister has said US pharmaceutical company Pfizer "must do more" for British jobs, R&D and science in its proposed takeover of UK rival AstraZeneca, amid challenges by Labour leader Ed Miliband to intervene in the deal. Pfizer made a £63bn offer for AstraZeneca last Friday, which the UK firm immediately rejected.
A new YouGov poll finds broad support for government intervention when a British company is subject to a takeover by a foreign company. By 50% to 34% British people say the government should intervene to determine if a bid should proceed, rather than leave it up to the company's shareholders.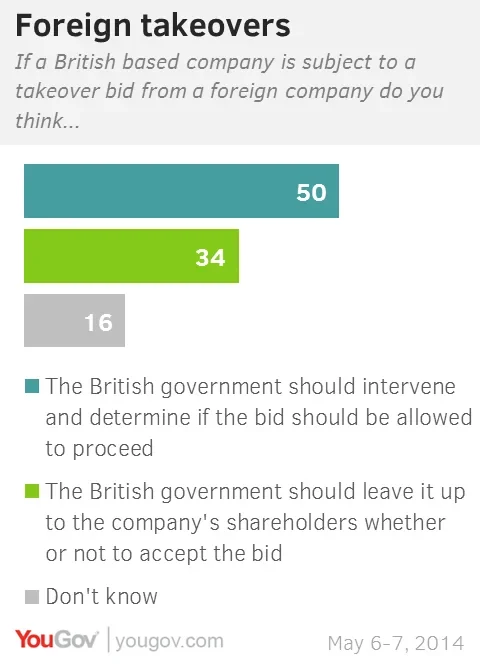 Intervention is favoured by around half or more of supporters from each major party, including 49% of Conservatives, 50% of Lib Dems, 57% of Labour and 64% of UKIP supporters.
David Cameron has also argued that Britain "benefits massively from being open to investment" and pointed to the purchase of Jaguar-Land Rover by an Indian company as a deal that created new jobs in Britain.
However, the British public appear uncertain whether the benefits of foreign takeovers in general outweigh the costs. 55% believe it is a "bad thing" when British companies are bought by larger foreign companies, and that such bids put British jobs and investment at risk. Only 12% believe the opposite is true. A third either don't know (12%) or think these sorts of deals are neither good nor bad (21%).
On Tuesday Business Secretary Vince Cable refused to rule out intervention on public interest grounds. Labour have suggested amending the 2002 Enterprise Act to allow this to happen, as currently the law only allows ministers to intervene in deals affecting national security, media ownership or the country's financial stability.
Image via Getty