YouGov CEO, Stephan Shakespeare, considers whether Ryanair's TV adverts could help to transform the airline's image
As part of Ryanair's quest to revamp its image, the low-cost airline has launched its first TV campaign in 25 years. The improvement in consumers' view of the brand since it announced its customer service overhaul, last autumn, has cooled, but there has been a modest increase in the number of people who say they would consider flying Ryanair. Could the TV adverts be the thing that accelerates Ryanair's image makeover?
The TV campaign is comprised of a troika of 20-second clips meant to make the public aware of three recent changes: a new and improved website, allocated seating, and a second free cabin bag. In the tongue-in-cheek spots, a narrator contemplates how incongruous the relaxed Ryanair customers in the videos are with what he knows of the "old" Ryanair. After a 10-point improvement in its overall Index score between last autumn and early February, perception of the brand is now flat-lining. However, the number of people who say they would consider flying Ryanair has increased from 13 per cent to 17 per cent over the same period. And the number of people who say they have seen a Ryanair advert recently has more than doubled since the TV campaign launched, going from six per cent a week ago to 15 per cent today. This is a good early sign, but it will come down to whether or not customers are convinced by the ads.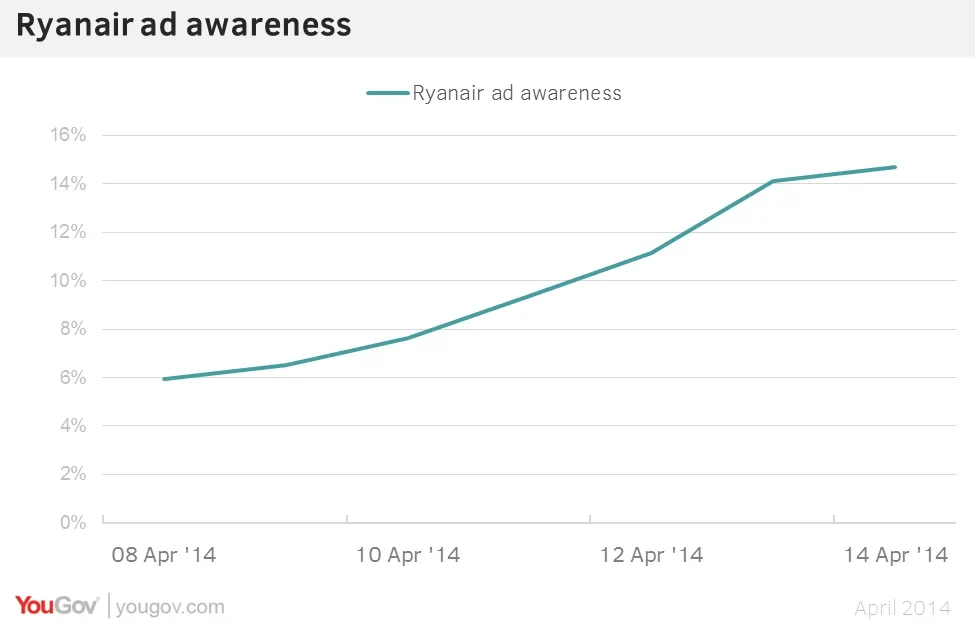 Budget airlines battle for Germany
Meanwhile, on the continent, the battle to become the dominant low-cost airline in Europe's biggest market is heating up. Ryanair recently announced an expansion in services in Germany, in a direct challenge to Lufthansa's low-cost carrier, Germanwings. Germanwings is also expanding capacity, including a Cologne to Dublin route that will compete directly with Ryanair. Not to be outdone, EasyJet is increasing its services in the country, adding to its Berlin-based fleet and launching routes to Hamburg.