One of the most noticeable things about Marie Stopes International is that it does not push too many stories out to the UK media, instead receiving much of its coverage by offering comment on existing stories. The charity's main proactive activity has been internationally-focussed for its #makewomenmatter campaign, and its international work received coverage in the Guardian.
However, it has also generated some adverse publicity, such as last July a woman died following a visit to a Marie Stopes Clinic in West London. It was also revealed that one of the senior team at the charity earned as much as £290,000 a year.
Awareness Scores
Although the organisation offers services to men, its predominant focus on female heath means it is perhaps not that surprising it has higher levels of awareness among women. However, looking at the organisation's Awareness Scores by age shows that the group with the highest levels of awareness are the over-50s and the group least likely to have heard of Marie Stopes are 18-34 year-olds.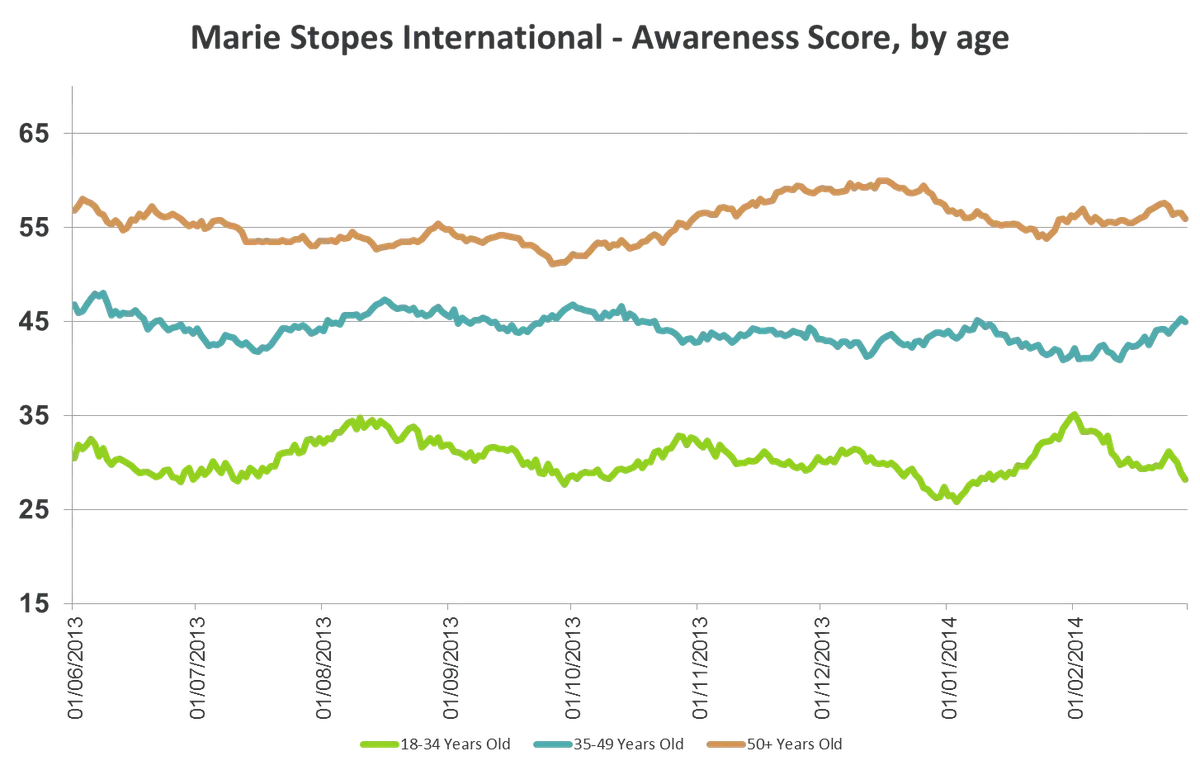 Conclusion
As a brand, Marie Stopes International is in an interesting position. Is it a domestic-focussed organisation that aims to educate and assist people when it comes to family planning and sexual health? Or is it an organisation whose main focus is on its global work in developing countries, helping secure rights for women and improving their reproductive health outcomes?
There is clearly a duality to its work. Given the often sensitive nature of its work and the people who use it, it is not surprising that it goes on with much of its work in the UK studiously but without a great deal of fanfare. Yet in terms of driving forward its international activities it needs to create more noise at home both to prompt people to pressure politicians to make a change on the world stage and also to raise funds to undertake its work in developing countries.
Click here for more information about CharityIndex
This is an edited version of an article that was originally published by Third Sector
Image by Marie Stopes International / Ina Sotirova