Londoners are behind Crossrail 2 and the proposed Thames Garden Bridge, but tend to think the city's new towers are making the skyline worse
Londoners are firmly behind Crossrail 2 – the proposed new north-south rail line for the capital – with more than six in ten (63%) in support of the project, while less than a quarter (21%) are opposed and the rest are undecided.
While a majority of those living in the capital are behind Crossrail 2, earlier this week comments by Transport Secretary Patrick McLoughlin sparked doubts about the project, potentially exposing a rift with London Mayor Boris Johnson. Last summer, Mr Johnson said he was "the man to get commitment from government" for Crossrail 2, which is projected to cost between £10bn and £15bn.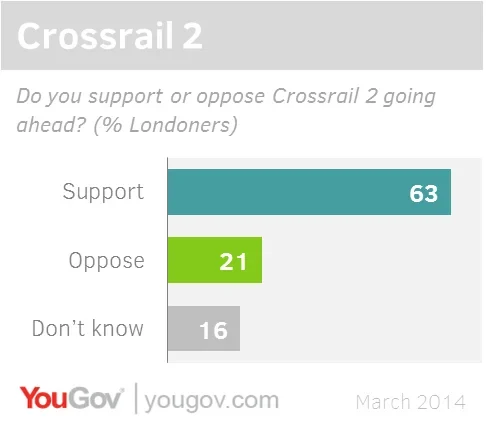 The Transport Secretary recently said that the government could not write an "open cheque" for London, and that the proposed second phase of Crossrail would have to be balanced against infrastructure needs in other parts of the country.
The poll of Londoners also shows strong support for the first phase of Crossrail – connecting east and west London – with six in 10 (58%) saying it will change London for the better, compared with only 7% who say it will make London worse. 23% say it won't make much difference, and the rest are undecided. Crossrail is currently halfway to completion, and will open to the public in 2018.
Thames Garden Bridge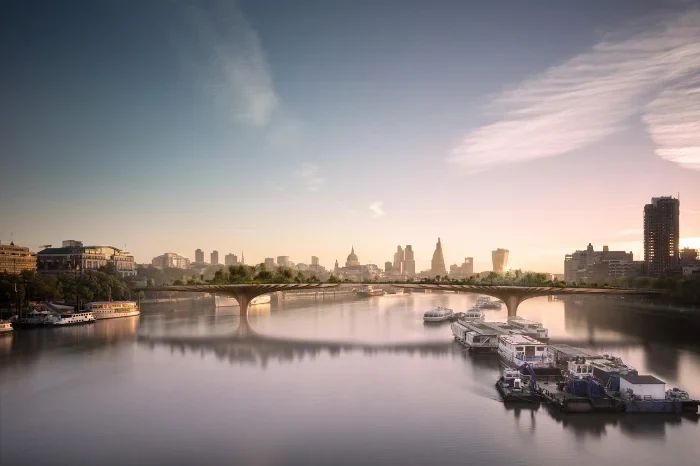 Image by Arup
Londoners are even more enthusiastic about the proposed 'Thames Garden Bridge', with seven in ten (69%) of those living in the capital in support of the project.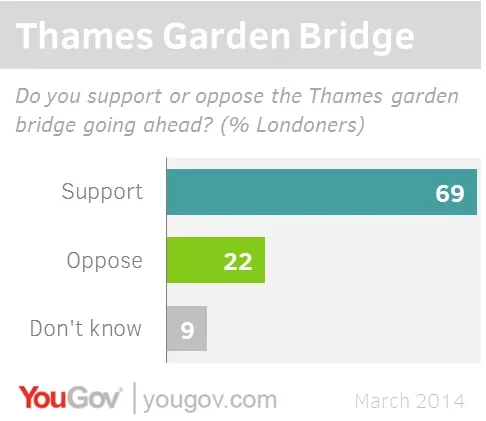 The Thames Garden Bridge is a proposed 370m pedestrian crossing to be located between Waterloo and Blackfriars bridges, which will be covered with trees and plants. The project is expected to cost around £150m, with £30m coming from government and the rest of the funding coming from the private sector. If approved, developers hope to start building next year and open it to the public by 2017.
Only 22% of Londoners say they are against the project, while 9% are still undecided.
London skyline
Londoners are somewhat less supportive of the proposed changes to the city's skyline. According to reports, there are 236 towers (i.e. buildings of 20 storeys or more) in the pipeline or under construction in the capital.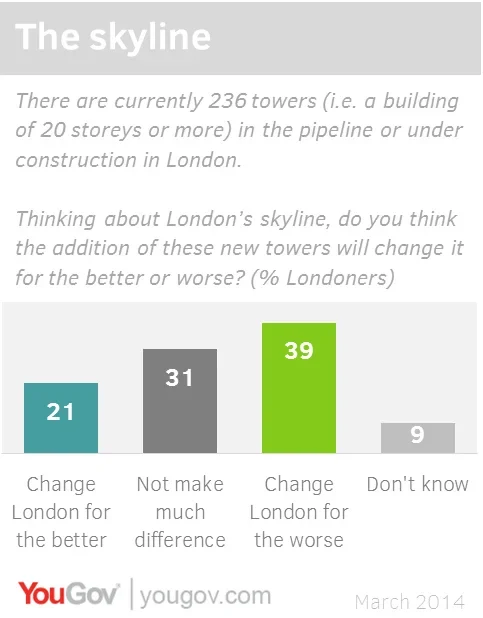 Four in ten (39%) Londoners say this will make the city's skyline worse, while 21% say it will change it for the better. A third (31%) say it won't make much difference, and the rest are undecided.
Main image: Getty