YouGov CEO, Stephan Shakespeare discusses Ryanair's efforts to change its perception.
This year, Ryanair is changing. At least that's what the budget airline's boss, Michael O'Leary, claims in a new TV advert, which is part of multi-pronged marketing effort to convince consumers that it is turning over a new leaf.
To get out the message that it is now a kinder, gentler company, it has appointed a chief marketing officer, is running ads on the London Underground, and will host weekly Twitter chats with customers.
It is also rolling out a slew of new initiatives to make flying Ryanair more pleasant, including a new website, mobile boarding passes, and – perhaps in an effort to steal some of EasyJet's thunder – allocated seating.
Using our social media analysis tool, SoMA, we can see Twitter users' reactions to the company's efforts, and most were sceptical: "Michael O'Leary ad says Ryanair will make your flight more enjoyable, kinda sounds like a threat to me," said one. "Ryanair takes to Twitter to acknowledge existence of human beings," quipped another.
The social media reaction illustrates the uphill battle the brand still faces to improve its image. However, looking at Ryanair's Index score (a composite of six key image attributes), there has been a consistent improvement in several markets since the customer service push was launched last autumn.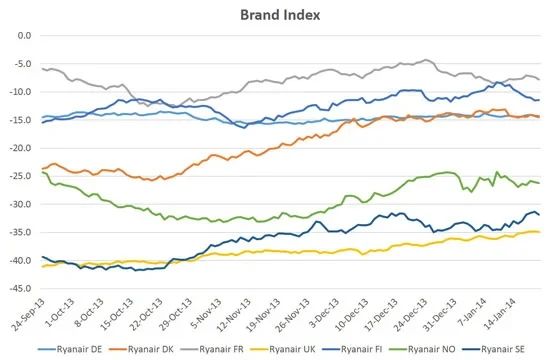 In Britain, Denmark, Finland and Sweden the brand continues to improve in the eyes of consumers. But in France, Germany and Norway people are still not convinced it has truly changed. Furthermore, arch-rival EasyJet enjoys a brand advantage over Ryanair that ranges from considerable to massive in every market where we track the pair.
While Ryanair is still light-years away from being one of Britain's best loved – or indeed, even liked – brands, the relatively modest steps it has taken since the end of September have led to a 17 per cent increase in its overall perception score in the UK. Consumers are not yet fully convinced, but they do appear to be open to the possibility that Ryanair really is changing.
This article originally appeared in CityAM