27% of the British public expect England will get knocked in the first round
On Friday the 2014 World Cup group draws were announced, including a tough group for England. The Three Lions were drawn against Uruguay, Italy and Costa Rica. England, currently ranked 13th in the world are likely to see their games against Uruguay (ranked 6th) and Italy (ranked 7th) as particularly challenging.
Now a new survey from YouGov suggests that many people don't even think Roy Hodgson's side will make it past the group stage in Brazil next year.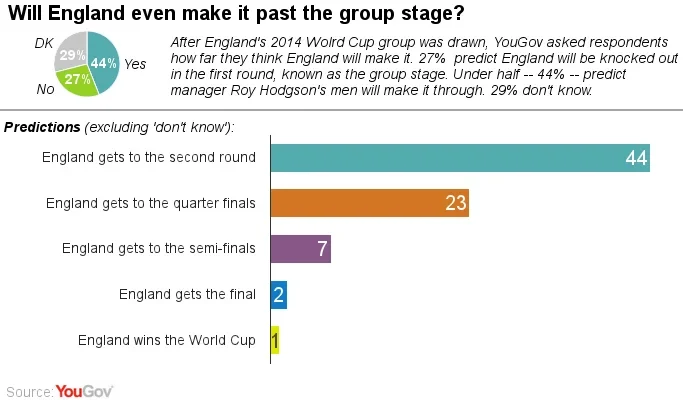 Opinions about England's chances appear to harden with age. While only 14% of Britons aged 18-24 think the team will get knocked out in the first round, compared to a third of over 60s – who would have been 18 or older when England last won the World Cup in 1966. 18-24 year-olds are also twice as likely as over 60s to predict that England will make it to the quarterfinals (though less than 10% of any age group think the team will make it past the quarterfinals)
However, the draw has done little to modify the already low expectations about England's chances.
After the team scored a thrilling 2-0 victory over Poland in October, hopes that England could win did lift slightly, but have changed little since. Now 6% of British adults believe it is likely (76% unlikely) that England will win next summer, a statistically insignificant change from October 16th (8% likely, 77% unlikely).
Image: Getty
Join YouGov today! Your views can shape the news…
Log in to YouGov and give your opinion on the England national football team...
England national football team