New York is the top choice for influential Britons in terms of world-class cities (other than London) where they would like to live and work
The survey of British opinion formers, drawn from politics, business, media, academia, NGOs and the public sector, asked respondents to rate various global cities on a range of measures. Overall, New York, Paris and Singapore are the most admired metropolises – but for very different reasons.
New York is seen to be strongest for arts and culture, employment opportunities, location, friendliness and having a lively buzz. Meanwhile, Paris gets top marks for quality housing and education facilities, and Singapore is seen as best for safety and quality public services.
Paris weak on economy
New York scores well on nearly every measure, but only 6% see it as having a favourable tax regime, compared to 34% for Singapore, 35% for Hong Kong and 55% for Dubai.
Paris fares poorly for employment opportunities, with only 13% of British opinion formers seeing the French capital as a good place to find a job, ahead only of Buenos Aires (11%) and Moscow (5%). Furthermore, only 1% of respondents think Paris has a favourable tax regime, and just 10% see it as a friendly city.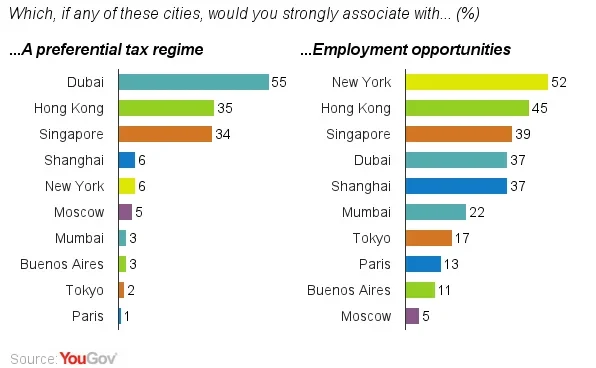 Singapore gets respectable scores on most measures, but only 7% see the Southeast Asian city-state as a good place for arts, culture and entertainment.
Top priorities for influential Britons
Arts, culture, entertainment and leisure facilities was the top consideration for respondents when considering whether to live and work in a new city. Personal safety was the second most important factor, followed by climate and weather.
New York comes out on top in arts and culture, Singapore is seen as being the safest city, while Buenos Aires is seen as having the nicest weather.
For the study YouGov completed online interviews with 665 opinion formers from its UK Opinion Formers Panel. Opinion Formers are leaders in their field from business, media, politics, NGOs, academia and beyond. Fieldwork was undertaken between 20th September and 2nd October 2013.The figures have not been weighted. Respondents were shown a list of 11 cities (including London) and asked to rate them.
Image: Getty