In a survey of the Welsh public, acclaimed actor Anthony Hopkins tops a list of the most suitable people to 'represent Wales' – but parliamentarian and ex-wheelchair racer Tanni Grey-Thompson ties him for the No. 1 spot
They're both famous Welsh people but for very different reasons: one is an Academy Award-winning actor, the other a former wheelchair racing champion, Life Peer and television presenter. But Anthony Hopkins and Tanni Grey-Thompson are tied atop of a list of well-known Welsh people deemed 'suitable' to represent Wales as an ambassador by their countrymen and -women.
Singers Tom Jones and Katherine Jenkins come third and fourth, respectively, and are the only other candidates considered 'suitable' by more than a quarter of the Welsh public.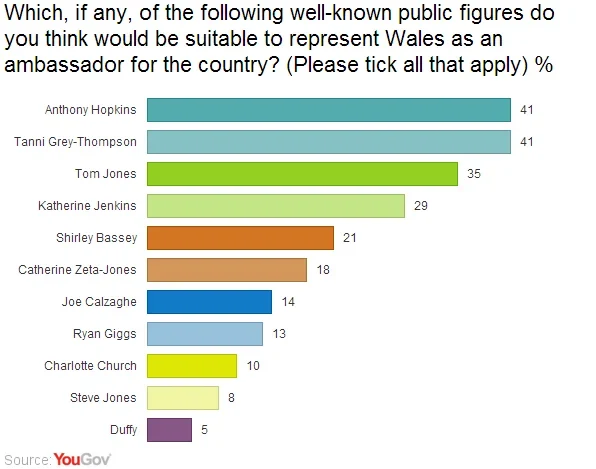 Besides Ms Grey-Thompson, Welsh entertainers appear to fare better than athletes. Manchester United footballer Ryan Giggs, who turns 40 on Friday, is thought well-suited to an ambassadorship by only 13% of Welsh people, roughly tied with retired boxer Joe Calzaghe.
Image: Getty