Most British people expect autonomous weapons to arrive on battlefields in the next 20 years, but 44% would like them outlawed first
With cyber-attacks and unmanned drones already changing the shape of warfare, experts are lobbying the UN to outlaw 'killer robots' – fully autonomous weapons that do not need human commands to make combat decisions – before the technology is even fully developed, and YouGov research reveals British people are largely supportive.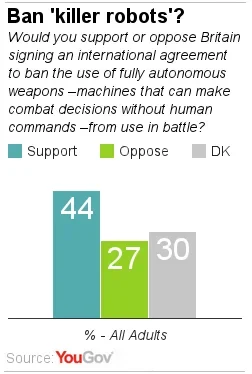 Only 27% oppose Britain signing an international agreement to ban fully autonomous weapons, while 44% support it. A large group (30%) don't know whether they support or oppose a ban on the so far undeveloped battlefield technology.
Some groups are more supportive of a ban on killer robots than are others: Lib Dem voters support it by almost three-to-one (61%-21% oppose), Londoners by 53%-19%. UKIP supporters, however, have 36% in favour and 35% opposed.
Despite overall opposition to allowing robots onto battlefields, most British adults (54%) expect them to be used in many battles within 20 years. That 'most battles' will be fought using cyber-attacks by 2033 is seen as equally likely. On the other hand, people tend to see nuclear attack and world war as relatively unlikely over the same time period.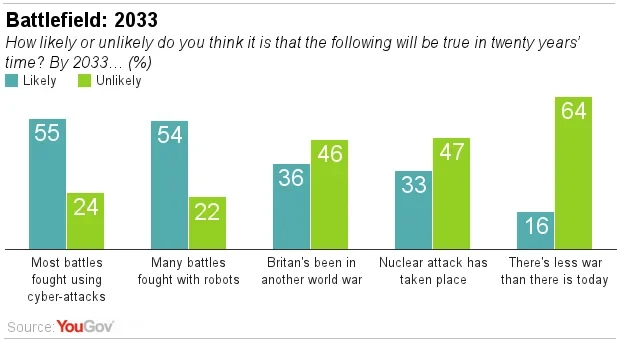 Concerns about weapons who 'take decisions' of their own are nothing new. A report calling for a moratorium on 'lethally autonomous robots' was presented to the UN Human Rights Council in May and Welsh Labour MP Nia Griffith called for a world ban in June.
Autonomous weapons technologies are already being developed in the US, UK and Israel.
Image: Getty