Following controversy over what is acceptable for bonfire celebrations, the public remain divided on burning effigies
A 30-ft effigy of former apprentice star Katie Hopkins was burned at Edenbridge Bonfire celebrations last Saturday. Festival organsisers described her as an "easy choice" due to her "silly remarks" this year. Katie joins a group that includes Bill Clinton, Osama Bin Laden and Barack Obama, all of whom have had effigies burned as part of traditional bonfire celebrations in Kent and Sussex.
YouGov research shows the public are divided on the practice but tend to think burning an effigy of Katie Hopkins is unacceptable.
On the principle of burning an effigy the public is split: 43% feel it is acceptable, 43% feel it is unacceptable and a further 14% don't know. However, when Katie Hopkins is specifically referenced the public tend to show more compassion, only 27% say it is acceptable, almost half (48%) feel it is unacceptable and 24% either don't know or don't know enough to say.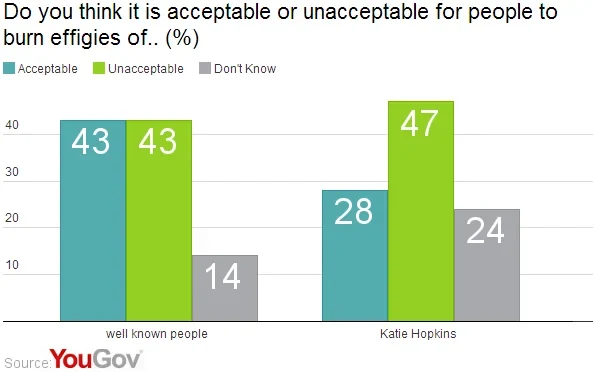 Around a quarter (24%) of the public will be celebrating Bonfire Night this year, slightly more than celebrated Halloween last week. As a festival, the public prefer Guy Fawkes Night (45%) to Halloween (13%) by a margin of three to one.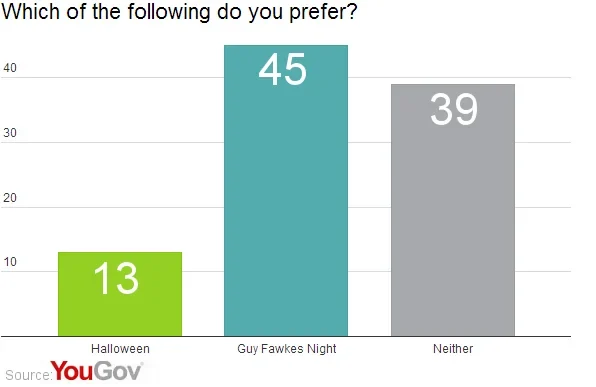 Lewes Bonfire Night is the largest and most famous of the bonfire celebrations this evening. It regularly attracts crowds of up to 100,000 people and and is no stranger to controversy for its effigy choices and its liberal use of fireworks on the streets.
Visitors were urged to wear safety goggles by police at last year's event.
Image: Getty
See the Halloween v Bonfire Night results