Voters trust a Cameron-led Conservative government to manage the economic recovery more than a Boris-led one.
Boris Johnson's strong personal favourability ratings and popularity in London have helped fuel rumours of a potential leadership bid. Indeed a recent YouGov poll for the Evening Standard showed that the Conservatives would gain seats in London with Boris as leader.
However with the next election set to be fought on how best to manage the economy, research by YouGov for Public Lobbying & Media Relations (PLMR) shows that a Conservative government led by Cameron would be trusted more to manage the recovery than a government led by Johnson.
A Cameron led Conservative government gets the highest trust rating of 35%. A Johnson led Conservative Government receives around the same trust rating (27%) as a majority Labour government (30%), and a Conservative - Liberal Democrat coalition (29%). Just 19% say they would trust a Labour - Liberal Democrat coalition to manage the recovery.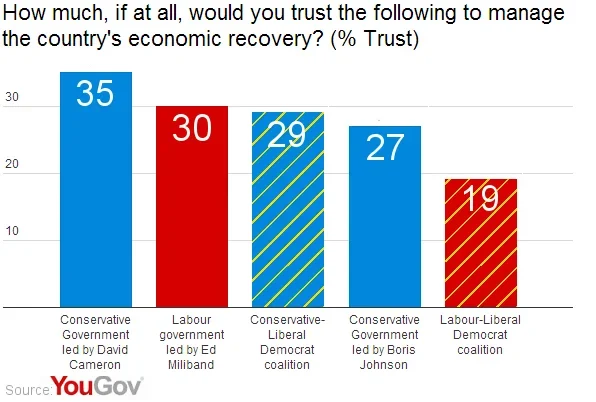 There is a low level of trust across political parties, and that trust is strongly correlated with with voting intention. However, Cameron gains his narrow advantage by getting a 91% trust rating from Conservative voters, compared with Miliband's 76% amongst Labour voters. This advantage is wiped out with Johnson as leader; only 60% of Conservative voters would trust a Johnson led government on the economy.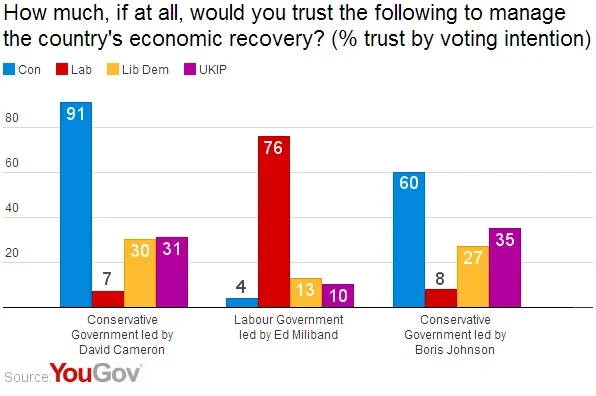 His support amongst the voters of other parties is not significantly different from David Cameron's on the economy; however he does maintain the same level of trust (38%) as Cameron in London.
Image: Getty