Roman Catholics and Muslims tend to take the most conservative positions on issues such as gay marriage, euthanasia and abortion
Research carried out by YouGov on behalf of the University of Lancaster, released this week, provides an insight into the relationship between religion and morality in 2013.
Recently, religious leaders have publicly grappled with how to square religion's traditional values with the shifting mores of modern society. The Vatican's conservative line on most social issues has not changed, but Pope Francis has warned against the Catholic Church becoming "obsessed" with issues like gay marriage, abortion and contraception. The Archbishop of Canterbury, Justin Welby, too, has signalled a need for the Church of England to change its tone on issues like gay marriage.
Now research suggests that while most people in Britain who already call themselves religious do take conservative positions on social issues, these positions are much less likely to line up with the views of the many non-religious people whom religious leaders might like to draw into the flock.
Support for gay marriage, legalised in the UK earlier this year, is strongly supported amongst those professing no religion with 62% stating that gay marriage is right, and only 21% saying it is wrong. Amongst Catholics, Anglicans and Muslims, however, more feel that gay marriage is wrong than right.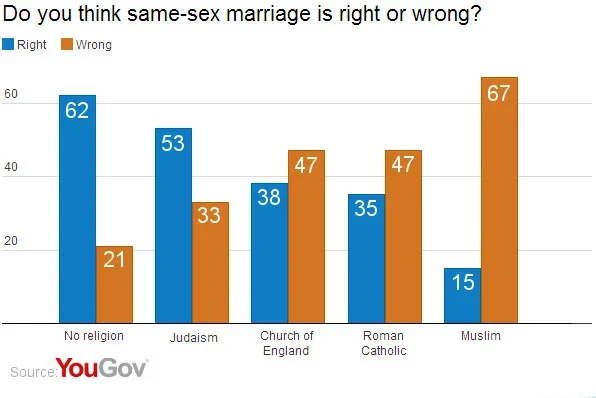 There is widespread support for a change in the law on euthanasia, the practice of intentionally ending a life in order to relieve pain and suffering. Again, support is highest among those with no religion, with 85% supporting a change in the law. Muslims are the only religious group in which a majoprity do not support a change in the law (30%). Euthanasia remains illegal in the UK, but is currently legal in countries such as Switzerland and Belgium.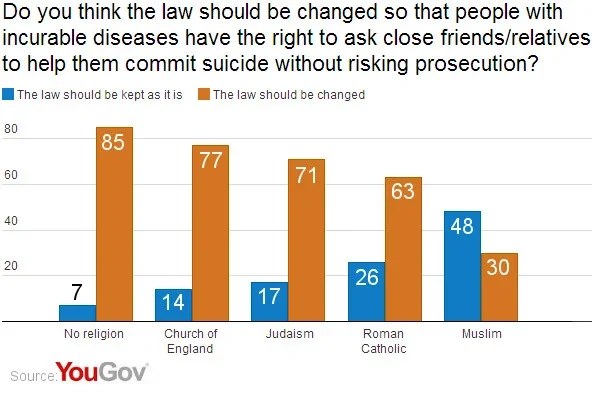 Opinion is more divided on abortion, although belonging to any religion still appears to play a significant role. Despite the Catholic Church's hard line on abortion, just 16% of Roman Catholics believe that abortion should be banned outright, with a further 31% feeling that the time limit should be reduced below the current limit of 24 weeks. However among people who say they are profess to no religion, hardly anyone – just 3% – thinks abortion should be banned.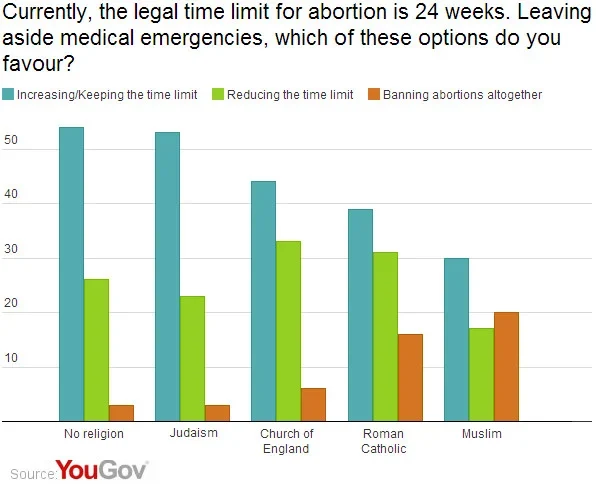 YouGov's research also shows that religious leaders may have an uphill climb when it comes to recruiting British people: only 31% describe themselves as 'spritual', 'religious', or both.
The group describing themselves as neither religious nor spiritual in their values and beliefs is by far the largest, comprising about half (51%) of the British public.
Image: Getty