David Cameron does not know the price of a 'value' loaf of bread – neither do 68% of voters.
On Tuesday Prime Minister David Cameron was accused of being out of touch when he could not correctly answer an interviewer's question about what the price of a 'value' loaf of bread is. The Prime Minister estimated that it would cost 'well north of a pound', but explained that he didn't know very well because he preferred to use a bread maker. The radio presenter interviewing Cameron said the real price was 47p.
Far from being alone in his ignorance, Cameron is actually joined by 68% of the British public: in a new survey only a third (32%) were able to guess that the cost of a 'value loaf of white bread' is between 41p and 60p. A larger group, comprising 34% of the public, guessed that the number was somewhere over 80p. 8% guess it costs less than 40p, and 12% admit they don't know.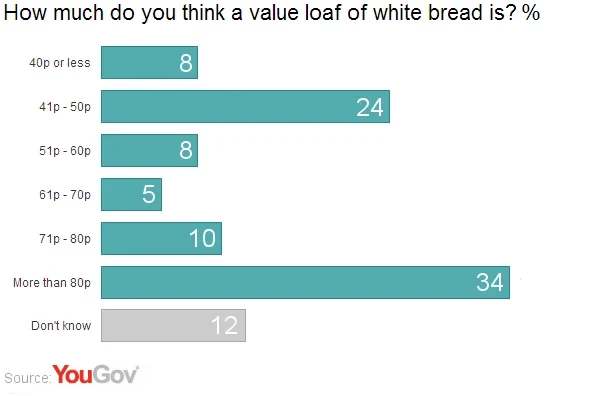 The average estimate was 67p.
Though the wide range of estimates suggests Foreign Secretary William Hague may have been onto something when he said that questions about the cost of common supermarket items, a decades-old measure for how 'in touch' policians are with their voters, may be out of date.
He told BBC Radio 4: 'It's a bit of a 1960s question. After all, what is the price of a loaf of bread these days? There are many different prices depending on what you want.'
Image: Getty