People with mental health problems are widely seen as the most discriminated-against group in Britain, according to new research from YouGov
Following a week where backlash over 'mental patient'- and 'psycho ward'-themed fancy dress costumes sold in supermarkets led to the costumes being pulled from stores, a YouGov survey on discrimination in Britain reveals that people with mental health problems are seen as the most marginalised, with gypsies, transsexuals and immigrants also high on the list.
In total two-thirds (67%) of British adults say people with mental health problems are discriminated against, including 30% who say these people suffer 'a lot' of discrimination – the highest of any group.
The mentally ill are more widely seen as discriminated against than gypsies and travellers (62%), transsexuals (62%), immigrants (58%), Muslims (57%) or disabled people (57%).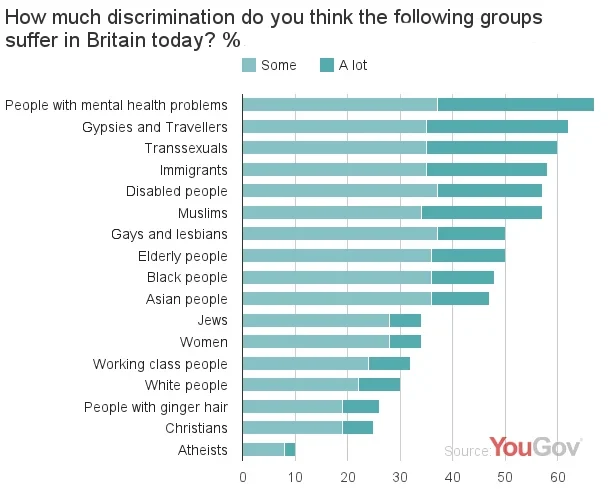 Around half see gays and lesbians (50%), elderly people (50%), black people (48%) and Asian people (47%) as victims of discrimination.
Discrimination is seen as less common when it comes to Jews (34%), women (34%), working class people (32%), white people (30%), people with ginger hair (26%), Christians (25%) and, last of all, atheists (10%).
Campaigners for mental health charities have said the costumes only served to further stigmatise mental illness.
Image: Getty