This month's Brand Spotlight looks at Macmillan Cancer Support, the charity that provides assistance to people with cancer and their families. We are going to focus on its "Not Alone" campaign that began in February with the aim of making sure that no one has to face cancer alone.
The campaign started with a bang, with the hard-hitting advert accompanied by a good quantity of coverage for the story about the number of people facing cancer alone. Looking at Macmillan's Attention Scores (which measures whether people have heard anything about the charity over the past two weeks) this launch represented a big bang, followed by a lull before the next stage.
We are using a two-week rolling average for our charts and so there is a slight lag between activity and impact on the numbers. However, the impact is obvious, increasing its score from 21.9 on 8 February to 27.4 by the end of the month. Yet, by early April, this had fallen back to a score of around 22 again as the initial burst of activity came to an end.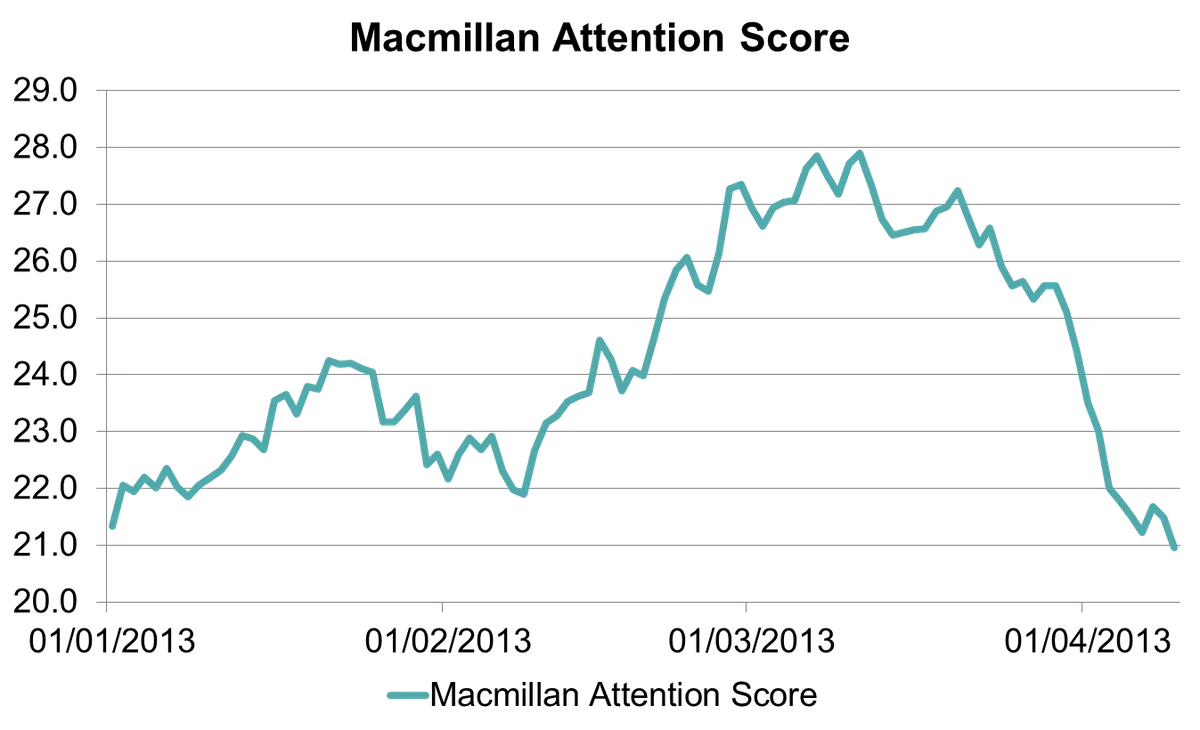 Macmillan Cancer Support Attention Score, 1 January – 31 March 2013
"Not Alone" is a long-term campaign for Macmillan, designed not only to raise funds for and awareness of the charity but also to inspire people to change their views of both Macmillan as an organisation and how people should face cancer. Due to these long-term ambitions, it will be interesting to monitor how perceptions of it change over the next couple of years.
However, so far in the short-term it has been able to both integrate existing Macmillan activity – such as the upcoming annual "World's Biggest Coffee Morning" - into the adverts and news stories that showcase the need for a community approach to deal with the effects of the disease.
The way different activity reverberates with different groups that perhaps previously would not have expected to engage with the charity shows that Macmillan has a first rate campaign tactics to go alongside its strong long-term brand strategy. With these things working in tandem it is likely we will see it topping the charity rankings in the coming years and also changing how people approach cancer.
This is an abridged version of a longer piece written exclusively for Third Sector. The full blog can be read on the Third Sector website.
More information about YouGov's CharityIndex can be found here.
Image courtesy of Getty